21 Jun 2020
Best Breakfast Spots in Steamboat
The Definitive Breakfast Guide
In an era where brunch is a verb, where to eat breakfast while on your Steamboat vacation is of paramount importance. And speaking of Paramount, it's first on our list of the best Steamboat breakfast spots.
The Paramount
1865 Ski Time Square Dr, Steamboat Springs:: Website:: 970-879-1170
Paramount cornered the breakfast scene around the mountain village of the Steamboat ski mountain about a decade ago. Their bright interior and eclectic menu showcase owners Suzy and Lee's passion for delicious, freshly prepared food. Its slopeside location means that after you're fueled up and filled up, you are literally in pole position to grab first chair on a ski day.  

Favorites on the menu include the delicious stuffed French Toast with fuji apples, honey butter, and maple syrup. Or for the ultimate omega 3, try the Salmon and Eggs with smoked salmon, balsamic mustard dressed greens, ginger, and lemon goat cheese, cherry tomatoes, 2 eggs, and toast.  More of a fancy toast kind of person? Try the avocado toast or go for toast with Nutella. And Paramount's homemade bacon is never a bad idea. 
Creekside Café
131 11th St, Steamboat Springs:: Website:: 970-879-4925
Creekside has been the gold standard for breakfast in Steamboat for over 20 years. Located off Lincoln Avenue, Creekside Cafe is a quiet reprieve from the hustle and bustle of Steamboat's main street. In summer the picturesque patio next to Soda Creek is the perfect setting for breakfast under a bluebird sky. In winter this restaurant is popular with visitors and locals alike fueling up for a day of adventure.
Try the legendary Eggs Benedict menu for a taste of what makes Creekside a  'Best of the Boat' winner nearly every year or dig into the infamous Wafflelaughagus - a malted waffle loaded with sausage gravy, melted cheddar, and jack cheese, choice of meat and two eggs any way, also served with breakfast potatoes. 
On the lighter side, enjoy a veggie omelet, avocado toast, or the gluten-free granola bowl. Wash it down with a cappuccino from the coffee bar, a freshly squeezed OJ, or a powder keg jalapeno-infused bloody mary. 
PRO TIP: while most breakfast places don't take reservations, you can hop on the digital waitlist for Creekside cafe right here.
The Shack Cafe
740 Lincoln Ave, Steamboat Springs:: 970-879-9975
Steamboat Springs is steeped in tradition and no place has stood the test of time better than the Shack Café which has been serving breakfast since 1969 in the heart of the main street of downtown Steamboat between 7th & 8Th streets.
The comprehensive menu offers a traditional American Breakfast selection and highlights include the Huevos Rancheros which is rated among the best in the known universe, and the Hobo Special – two eggs with choice of bacon, ham, sausage ground beef or chorizo with potatoes, onion and green peppers topped with melted cheese! 
Seedz 
1117 South Lincoln Avenue: 970-761-2276: Website::
If The Shack is the oldest, Seedz is the newest, but what they lack in longevity, they make up ten-fold in creativity. This organic cafe is a Steamboat favorite for healthy fuel for an active and adventurous day. 
Try the forage scramble with Hazel Dell wild mushrooms, caramelized onion jam, goat cheese, and basil or the "Farmed" loaded hash browns with nitrate-free bacon. Their spin on the eggs benedict "tower" over the rest with their signature South West tower made of a blue corn masa cake, chicken chorizo, hatch green chile, chipotle black beans, queso fresco, and avocado. There's also a gluten-free English muffin with roasted garlic, goat cheese, kale, tomato, and a spirulina pesto drizzle. Traditional pancakes share the skillet with chocolate and puffed quinoa cakes and banana chia waffles with macerated organic berries.

Fancy toast aficionados will love the avocado smash on a toasted baguette with organic egg, dressed greens, pea shoots, tomatoes, and hash browns. Or the Almond butter toast with fresh almond butter, bananas, and a side of strawberry jam on a toasted baguette.
And there's an extensive smoothie menu such as the green monster with organic pineapple, mango, banana, orange juice and spirulina algae to top it off.  For those indulgent weekend brunch types, the organic bubbly mimosas with fresh fruit purees are the Sunday special and on  Saturdays, they serve up sangria with white passion fruit and red currant raspberries.  
Freshies
595 S Lincoln Ave, Steamboat Springs:: Website:: 970-879-8099
It's been said more than once, "If you come to Steamboat and didn't visit Freshies, did you really visit?"  This delightful breakfast eatery is a fast favorite with locals and guests alike with a broad menu of choices for all palates.  They pride themselves on serving wholesome fresh foods with fast friendly service and they pull that off on a regular basis – like daily!
When it comes to naming favorites, you could begin an argument amongst friends.  The cinnamon rolls are legendary, but healthy options like the Toasted Quinoa and Butternut Bowl with toasted quinoa, kale, butternut squash, maple syrup, and eggs any style is a clear standout.  They also make a lean and mean Acai bowl. A wide variety of traditional choices abound and they make a pretty decent cappuccino to kick off your day!
Winona's
617 Lincoln Avenue: 970-879-2483: Website::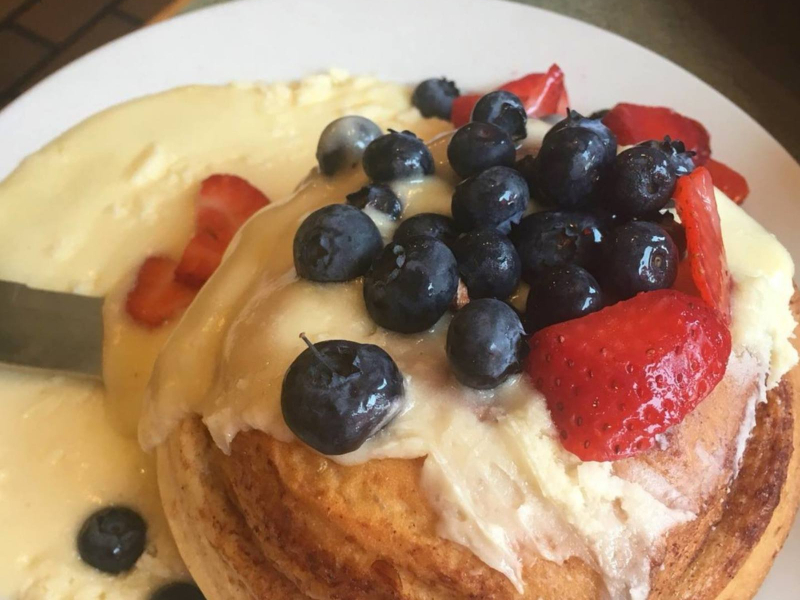 Located right on the main street in downtown Steamboat, this pint-size popular eatery is a longtime Steamboat breakfast favorite. You'll recognize Winona's by the requisite line around the corner or the wafting smells of their homemade cinnamon rolls.  
Try the french toast or the protein machine egg breakfast. Dig into the bacon stuffed waffle or savor a stack of pancakes. From huevos rancheros to tofu scrambles, Winona's has something for everybody's palate.  
Smell that Bread Bakery
135 11th Street: 970-761-2692: Website::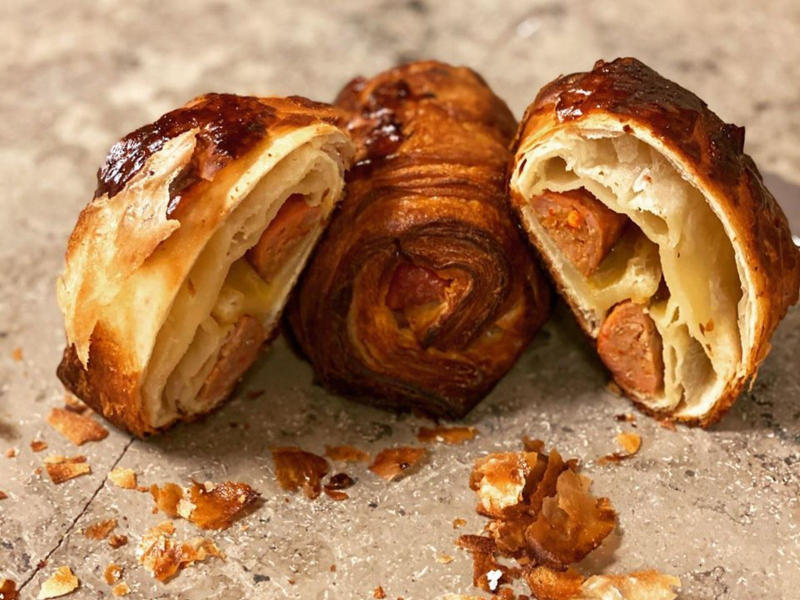 Just across the creek from Creekside Cafe sits the adorable Smell that Bread bakery. By day, it's a boulangerie offering the best almost croissants, pain au Chocolat, and hot cross buns, by night (these are baker's hours we're talking about), it's a wholesale bakery slinging gluten for all of the high-end restaurants in town. Sip an artisan coffee with your best-baked good on the petit riverside patio, snuggle into a seat in the cozy cafe, or stock up your chalet with to-go boxes of gluttonous goodies.
Powder Day Donuts
941 Lincoln Ave: 970-761-2023: Website:: https://powderdaydonut.com/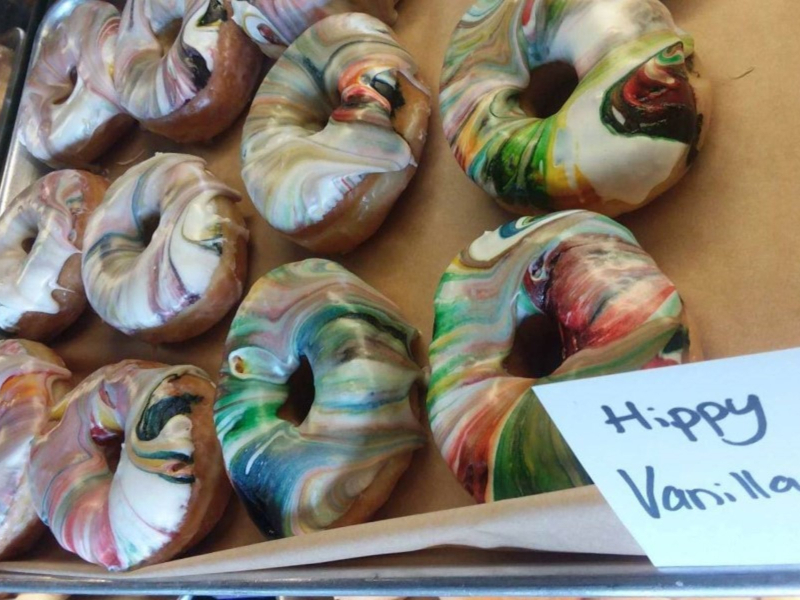 "Donuts for snow nuts" is how Powder Day donuts rolls. From raised glazed and apple fritters to donut holes and everything in between, DO not miss out on these donuts. 
Try the maple glaze bacon topped favorite or delight the little ones with the fruity pebble topped donut. There's also the peanut buttah, the apple cider and caramel donut and all the traditional bear claws, powdered donuts, and old fashioneds you can imagine. 
Each donut sale contributes to local nonprofits and a baker's dozen is always a welcome sight on the chalet kitchen counter. They open at 6:30 am and close by 1 pm, so get in there before they're all gone.  
Prefer to make breakfast at home in a stunning residence? As with all Steamboat restaurants, to-go orders are always an option or sharpen those short order chef skills in one of our stunning vacation home kitchens. We can stock the cupboards ahead of your arrival or indulge in the fully catered chalet package and never lift a spatula. Start your search here...