Take the Plunge!
As the summer heats up, it's the perfect time to head to the water to cool off. If you would rather float on top than watch from the shore, then paddle sports may be for you. From Stand-up Paddleboarding (SUP) to kayaking to canoeing, paddle sports offer something for everyone of any age and ability. With plenty of places to rent gear, adding a day on the water to your vacation itinerary is a must then head to one of Steamboat's favorite lakes, ponds, or rivers for some fun. And bring your water-loving dog too- they enjoy a good ride!
Paddleboarding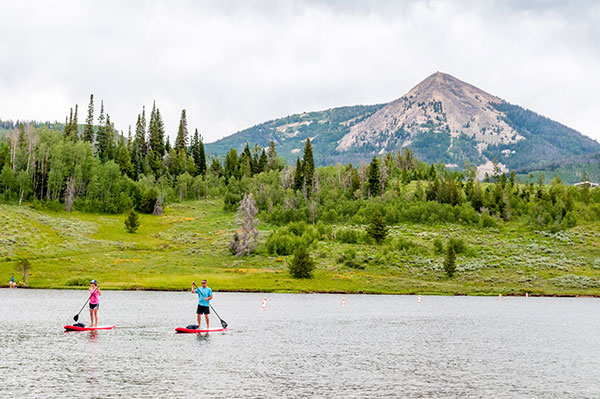 Stand-up paddleboarding (often referred to as SUP) has become a rage in water sports, rising in popularity as a fun way for people of any age to feel like they can walk on water. A great family sport, inflatable paddleboards fold into a backpack, can be taken anywhere, and are easy to inflate. Also a great low-impact cardio workout, paddleboarding works your core strength, arm, and leg muscles, and balance.
Kayaking
Kayaking is easier than you might think and a great way to feel stable and glide around the water. Many kayaks can hold more than one person, with sit-on-top options that are great for kids or sit inside options for a streamlined ride. You only need a few basic skills to paddle a kayak in calm lake conditions, with the forward stroke and sweep stroke for turning.
Canoeing
Canoes are an age-old watercraft, great for longer adventures, more people, and more gear. Canoes are easier to move around in to adjust your sitting position and require just a few basic paddling skills if you are just playing around for the day.
Great spots for watercraft in Steamboat Springs
Located in town, Fetcher Pond is an easy-to-get-to, small pond that attracts swimmers, paddlers, and fisherman alike and runs adjacent to the Yampa River. Tight on parking but big on fun, visitors and locals enjoy Fetcher as a quick drive option to beat the heat.
Stagecoach Reservoir, a 765-acre reservoir located about 25 minutes from downtown is a great option for paddlesports, offering on-site rentals at the marina. Stagecoach has a small beach and other non-motor boat areas where paddleboards, kayakers, and canoers can enjoy the no-wake zone.
Enjoy beautiful views in a serene mountain setting at Pearl Lake, a small, calm lake that doesn't allow motorized watercraft. About 45 minutes from Steamboat, Pearl Lake offers SUP rentals, picnic areas, and walking trails for a perfect day-long adventure.