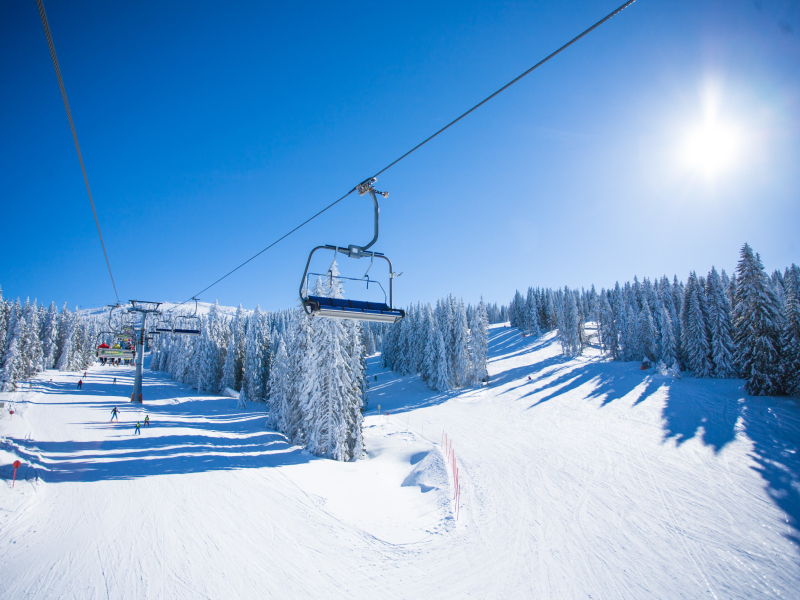 Ahhh spring skiing in Steamboat. Longer days, warmer afternoons and plenty of fresh corduroy … It warms our January hearts just thinking about it.
Spring in Steamboat is always a favorite. Boatloads of snow and sunshine, without the boatloads of people you see at the beach.

The activity options are endless, and they don't stop at spring skiing or snowboarding. You can cross-country ski, ice skate, fat bike, ski bike, snowshoe, drive bumper cars on ice, snowmobile, fly down the tubing hill and even ride our new mountain roller coaster!

If your family is ready to trade palm trees for snow skis this spring break, look no further than our Moving Mountains' Insiders Guide to Spring Break in Steamboat.

Getting Here
Don't let our remote location fool you! Thanks to our robust airline partnerships, Steamboat is one of the most accessible ski resorts in the country.

With over 15 nonstop flights (spanning both coasts) from major metropolitan areas, there's an easy direct flight that will get you and your brood here. Despite our plentiful snowfall, our airport even typically sees fewer delays and weather issues than Denver's International Airport.

Once you've landed in Hayden (less than 30 miles from the resort), you can be chauffeured over to your chalet by private shuttle, shared shuttle or via the Moving Mountains' VIP luxury catered chalet car service. Depending on your time zone, you could be here before the lifts close or happy hour starts! If you are really motivated to start skiing you can also night-ski for free on your first night if you present your boarding pass at the ticket window.
Speaking of happy hour…
Apres-ski takes on a whole new sheen when the temperatures are warmer, the tunes are playing, and the sun is shining! No need to cozy up next to the fireplace because the festivities are usually heating up outside.
Here are a few of our favorite spring happy hour favorites:
After lunch, this ski-in/ski-out snowy standby transforms into Steamboat's best spring break "beach". The infamous "ice bar" serves up craft beers and cocktails. And skiers and riders can munch on wood-fired pizzas while listening to plenty of live music. Los Locos and Paramount are next door to Slopeside, so you can enjoy tacos or sophisticated sandwiches from a slight distance while still savoring some of the Slopeside spring break scene.

T-Bar is a former ski patrol hut turned ski bum hotspot. You probably won't be taking the youngest family members here, but for a livelier laid back crowd, it's a fan favorite. Just like Slopeside, T-Bar's outdoor square footage expands exponentially in the springtime sun.
Appropriately billed as a 5-star dive bar, T-Bar serves up everything from elk shepherd's pie to a pork udon noodle soup. Their drinks are as creative as their clientele, which is to say you definitely won't be bored people watching at T-Bar!
This new outpost is in the former Bear River Bar & Grill location at the base of the mountain. What used to be a tired cafeteria has been transformed into a swanky new apres-ski spot. The comfy couch and outdoor fire pit will have you made in the shade, or you can pull up a sunny seat on the huge outdoor deck.
The deck doubles in size when the restaurant's glass bay garage-style wall opens up on the warmer afternoons. This family-friendly spot's huge portions are perfect for sharing. Timber and Torch are snowball throwing distance away from the base area music stage where Saturdays in March mean live bands through the Bud Light Rocks the Boat concert series.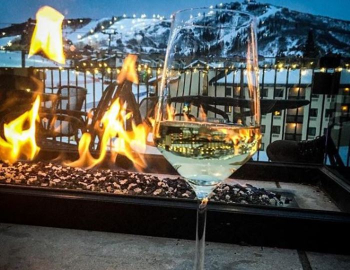 Truffle Pig is conveniently located on the ground floor of One Steamboat Place. Its prime location, excellent food, and posh patio make it one of our top choices for our Moving Mountains' spring break guests. And for families, the kids can still enjoy doing apres-ski hot laps on the Outlaw mountain roller coaster while parents nibble on parmesan truffle fries or the charcuterie platter.
Spring break into the wee hours



No respectable spring break is complete without at least one night out on the dance floor. While the apres-ski scene winds down by 6 or 7 pm, the downtown live music scene doesn't pick up until around 9 or 10 pm. Schmiggity's and Old Town Pub are your best choices for dancing till dawn (or 2 am when bars close).

Spring Break Live Music
You'll find pop-up performances at many of Steamboat's bars and restaurants all spring long. Our concierge can point you in the right direction for current happenings. The Steamboat Ski Resort hosts the Bud Light Rocks the Boat (at Steamboat) during March with free family-friendly concerts every Saturday from 3:30 pm-5 pm. From blues to rock, the 2019 lineup, which will be announced soon, will get you in the groove.

Outdoor On-Mountain Eats
It's hard to resist the BBQ when you can smell the burgers from the chairlift! At 9716 feet above sea level, you can't beat the lunchtime outdoor grill at Four Points for spectacular chews with views. And for Steamboat's spin on the roving gourmet food truck, track down the #TacoBeast 's ski mountain whereabouts for a South of the Border fix smack dab in the middle of your ski run. Forget the umbrella drinks by the sea and grab a drink at the newly relocated Umbrella Bar (over 9000 feet above the sea!). It moved from the base area to the deck of Rendezvous with floor-to-ceiling windows overlooking gorgeous vistas.
Kooky Events
With the warmer spring temperatures, it seems like layers aren't as crucial as needing to be in costume. We're not entirely sure what it is about spring that makes everyone want to ski in crazy outfits, but here are a few opportunities for you to don your favorite fluorescent gear from the '80s and make a bit of a spring spectacle of yourself.
Mardi Gras
While Steamboat doesn't have any Southern roots, we've indeed adopted the laissez les bons temps rouler attitude in the spring. This family-friendly celebration at the base boasts a crawfish boil, beads, face painting, parade, live music, and street performers. The good times of Steamboat's Mardi Gras get rolling on Saturday, February 22nd.

St. Patrick's Day
Unleash your inner Irish all weekend and wear your best and brightest green on the ski hill. Tutus, wigs, beads, bikinis and an anything-goes attitude are the norms!

Fireworks will kick off the weekend on Friday night, live music will get your toes tapping after skiing on Saturday, March 16th and who knows what kind of green beer shenanigans are in store for Tuesday, March 17th.

The Springalicious Festival runs from April 1-12. This fortnight of fun closes out the ski season with hilarious events such as Gaper Day, the Cardboard Classic and the Splashdown Pond Skim.

Where to stay
If you're interested in the downtown nightlife, don't want to boogie in your ski boots and plan on staying out long after our private shuttles have retired for the night, check out our chalets at the Olympian in downtown Steamboat. You'll have 5-star amenities, shuttles to the ski mountain and be boot scootin' distance from the hottest dance spots.
One Steamboat Place will have you in the closest proximity for all-around family spring break adventure, fun, and luxury. Families love its Ski-in/ski-out location, ski valet, a grown-up game room for teens and adults, little Tykes playroom for imaginative toddlers. Outdoor swimming pool, hot tubs, a first-class spa, lively apres ski, daily wine tastings, complimentary breakfast, and 5-star service round out this black diamond gem. You'll also have the Truffle Pig just below and the Outlaw Mountain Coaster and Steamboat's Ski and Snowboard School just a few feet beyond the front door.
While there are plenty of options for spring-breaking throughout Steamboat, our private homes also have the most beautiful sunshine-filled decks and gorgeous mountain views. With our luxury full-service catering package, Moscow mules and margaritas can be expertly prepared by your private chef and staff - no crowds required. And the hot tubs at all of our chalets are always warm and waiting. Let us match you with the perfect spring break chalet for your family.

With a family spring break in Steamboat, the only screen you'll need is SUNscreen. Be sure to apply and reapply, otherwise, you'll be bringing home unmistakable goggle marks as your spring break souvenir. We can't wait to host you this spring at Moving Mountains. Your best spring break is just a chalet away!