5 Jun 2019

(Photo from Steamboat Powder Cats)
6 ways to cure your snow hangover
We're not even into the official first day of summer, yet, and already we're dreaming of our next ski fix.
If the constant ringing and dinging of our guest services' inbox is any indication, you must be dreaming of next year's ski vacation, as well.
We call this a summer snow hangover.
It's the cautionary aftermath of an extraordinary ski season. A summer snow hangover can be characterized by an aversion to lawn mowers, a fear of heat and humidity by 7 am, a dislike of scorching hot pavement, scars from the latest bug battle and a craving for the snow-filled thrills that a day on the golf course just can't ever seem to match.
If you've been pining for our Instagram BBQ cam to showcase its latest bounty of snow as summertime awaits, you need to seek immediate attention as you could be diagnosed with a snow hangover, too.
The remedy? A heavy dose of snow-filled adventures to look forward to.
Moving Mountains to the rescue!
Here at Moving Mountains, we understand that the hardest part about planning a ski vacation isn't finding two kids' gloves that match (nevermind, that actually can be quite hard), the second hardest part is finding the perfect ski home for your vacation.
As a family, you're juggling the school schedule, the airline schedule, the work schedule, the dog sitter schedule and, when you finally have a chance to make a reservation, you realize that every house you've put in your favorites file is spoken for. It's a rookie mistake.
But here's a pro tip to make it much easier, reserve your vacation now while dates are flexible, top choices are still available, and you aren't spending all your free time on the internet searching for school supplies.
Word is out on how wonderful last ski season was, and it'll be slim pickings soon enough. So scoop up one of these 6 luxury ski vacation homes before your neighbor realizes she has a snow hangover, too.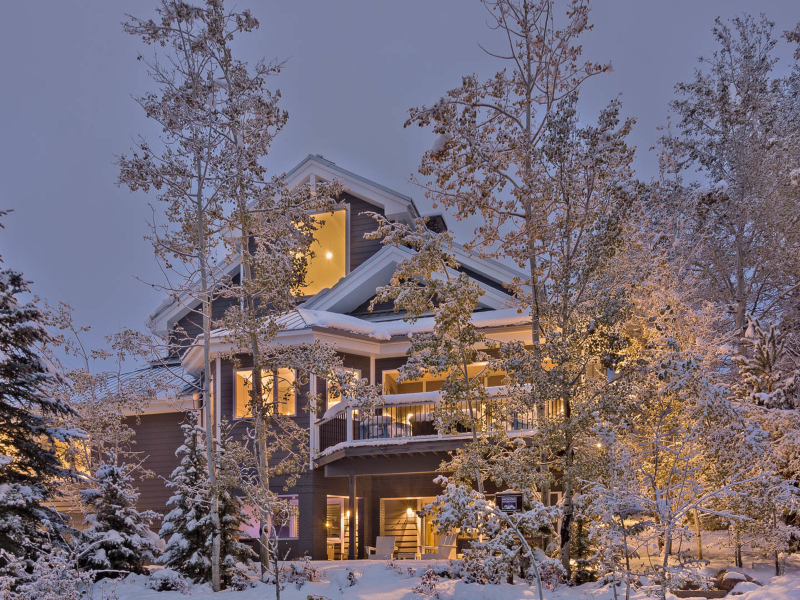 At just 160 yards from the Thunderhead chairlift base, this ski vacation home is the perfect antidote to a summer snow hangover. This home has the best of all worlds: an enviable slopeside spot plus a completely revamped, remodeled, mountain-modern interior.
Good thing the snow will be calling as the views from the master bedroom at Time Flys make it nearly impossible to ever want to leave those high thread count sheets. With multiple King and Queen-bedded rooms and cozy living areas, this home is perfect for gatherings of multiple families and friends.
The outdoor gas firepit, Adirondack chairs and sweeping views of the mountain make the Time Flys front deck arguably Steamboat's most desirable happy hour spot. You just need your favorite cocktail paired with one of our private chefs for the evening to make it complete.
If you've been panning the internet for the quintessential Colorado experience, look no further than Gold Mine Lodge.
Gold Mine Lodge has everything you need for the most incredible vacation experience. It's just steps from the Thunderhead Lift and is crafted with timbers reclaimed from an old Wyoming gold mine. No expense has been spared to provide the highest level of 5-star comfort and character in this incredible home.
Almost every room has a view of the ski hill or the valley. The delightful little details, like the playful, pretend canary in the wine cellar or the charming powder room that looks straight out of the wild west, make this home unique and authentic, unlike anywhere else you will ever stay.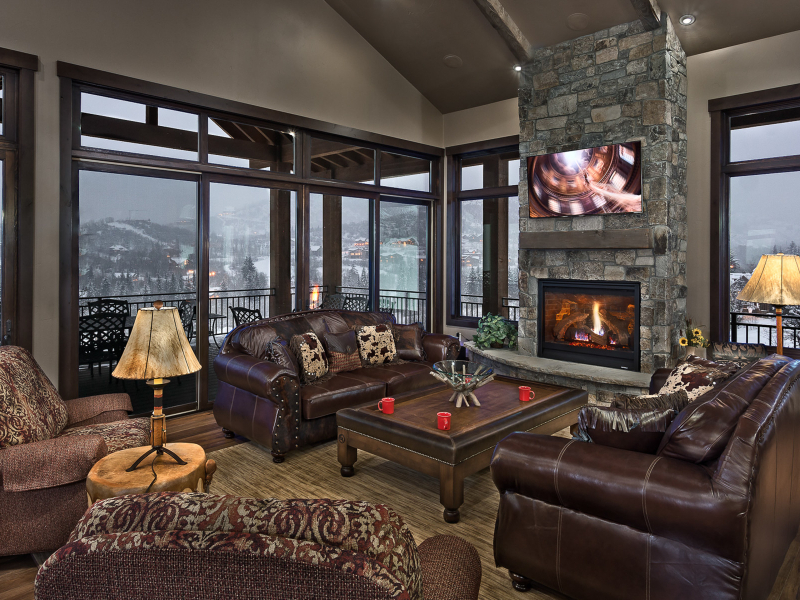 This gem overlooking the Rollingstone Ranch Golf Course will most certainly cure all snow hangover ailments. You'll have prime viewing of both alpine views and alpenglow sunsets from the expansive picture windows and the private outdoor hot tub.
Its spacious great room and professional kitchen are perfect for entertaining the adults, while the lower level game room complete with pool table, 50" TV and X-box will keep little ones busy.
And if your legs are too tired to carry you over to one of Steamboat's spas, you don't have to go any further than the downstairs for the convenience of an at-home dry sauna, private outdoor hot tub and a full gym.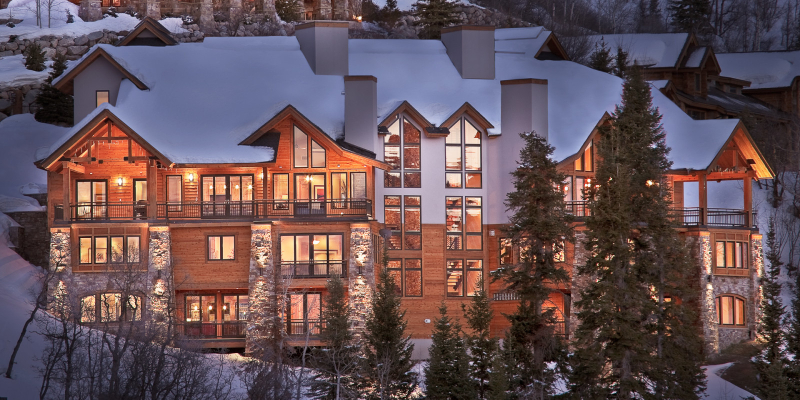 At 14,328 square feet, Falconhead Lodge is often mistaken for a small hotel or even a small continent. Despite what its size suggests, it doesn't need its own governing body, but it does need groups who want the ultimate in luxury and an abundance of bedrooms all in a commanding spot overlooking the ski area.
Falconhead Grande is made up of two private residences that are each equipped with private elevators, breath-taking four-story windows, multiple master bedrooms, bunk rooms, and dual kitchens (yes, 4 kitchens total!). Each side can be reserved separately as Falconhead North and Falconhead South, or as a grande lodge sleeping up to 32 people.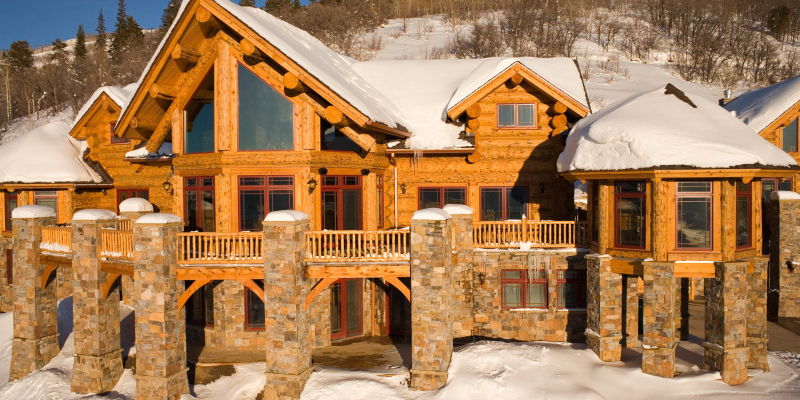 Named for one of our favorite Steamboat ski runs, See Me Lodge is a mountain home that ranks among the most impressive in Steamboat Springs.
You've probably already scouted it out while riding the gondola, or you've spotted it in numerous articles over the years including SKI magazine, Colorado Homes magazine, Yahoo! or the CBS Today Show. It's also ranked as one of Log Home Living's Top 10 Log Homes in North America.
Just as its name suggests, (along with Its impressive perch high above the base area), See Me Lodge is one not to miss. This stunning 6-bedroom luxury home, with easy access to the trails, offers unparalleled valley views from its wrap-around deck.
The massive timbers, originally from Glacier National Monument, make this expansive mountain home feel warm and cozy. And it's completely separate fully-equipped guest house is perfect for families needing extra privacy for teens, a nanny or the in-laws. The upstairs saloon, game room and pool table is a favorite hangout spot for adults and kids of all ages. And the sunset room, off of the main deck, is ideal for those wanting the utmost in scenery and solitude.
This 3-bedroom home is made for single families who want the privacy and space of the perfect ski home, the unrivaled 5-star service of Moving Mountains and the amenities of the adjacent Trailhead Lodge (private gondola, game room, heated outdoor swimming pool).
With tall windows, an open floor plan, and high ceilings, Wildhorse Chalet is a welcome retreat after a day's adventures on the mountain.
The stacked stone fireplace is a cozy gathering spot that will keep everyone warm while they enjoy each other's company or the 65" flat screen TV. With bedding configurations consisting of a king, queen, twins, and a trundle, rest assured, everyone will sleep comfortably.
Enjoy stargazing from the private hot tub or head over to the adjacent Trailhead Lodge to enjoy the fitness room or the outdoor heated swimming pool. The private gondola will get you to the mountain village in no time, and our private shuttle service will ferry you wherever else you want to go in Steamboat.
Now you know six cure-all prescriptions for your summer snow hangover. Time to reserve two Steamboat ski vacations and call us in the morning. Because, trust us, the dog days of summer are much more tolerable when you know that the snowcat days of winter are just around the corner.