17 Dec 2019
107 years ago, Winter Carnival was the cure for long winters, short days and cabin fever. Today, it's the rite of passage of every Steamboat child, a well-loved tradition for local families and a week of spectacular snow celebrations for our guests.

While the festivities start on February 5th, the do.not.miss. events are on February 8th and 9th. Here's a quick summary of our favorites, the complete schedule is here
Kickoff Events (Wednesday, Thursday, Friday)
Opening ceremonies are on Wednesday, February 5 at 5:30 pm. If you want to become the next Eddie the Eagle, you can learn to ski jump (12+) on the historic 
Howelsen Hill ski jumps right after the opening ceremony. Your family and friends can even watch the fireworks spectacle from the cozy Aurum restaurant dining room if you're ready for an audience. However, seeing the ground action may be difficult.
Thursday's events have everything from the ski jumping jamboree to parent-child slalom racing. Enjoy the snow sculptures downtown and end with the S'more Family Fun Party. Roasted marshmallows, dancing under the stars and a fire show by the "Pyroneers". ($10 additional charge for the S'more Family Fun Party). Friday's favorites are the Soda Pop Slalom (on the Steamboat Ski Mountain) in the morning and the Johnsie Dual Slalom bicycle race (yes, bike racing on a ski run!) on Howelsen in the evening. 
Main Events (Saturday & Sunday)
Street Events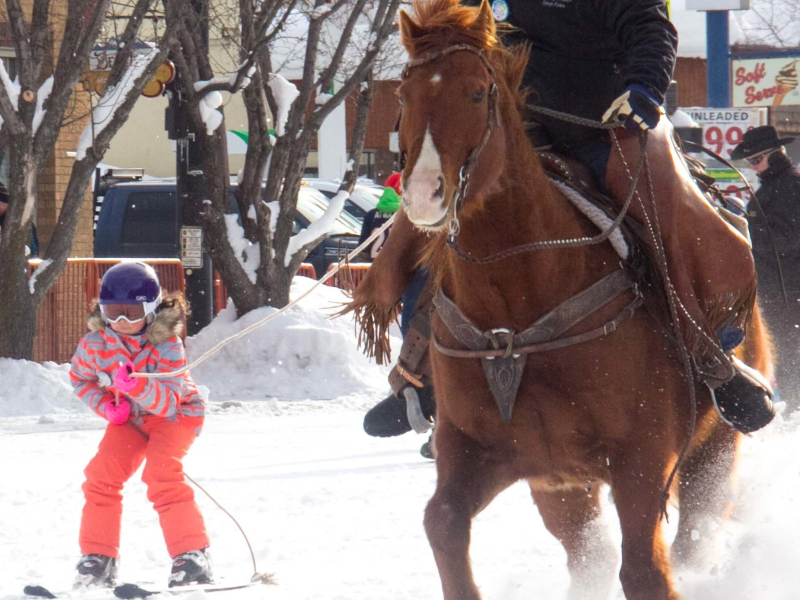 While Steamboat locals are fairly responsible parents the other 360 days of the year, during Winter Carnival street events, local Steamboat kids are encouraged to ski behind horses (at top speed) right down the main street. With enough horsepower, some even aim for the "Donkey Jump" flying up to 40 feet through the air before (hopefully) sticking the landing. The downtown street events are both on Saturday and Sunday mornings, Feb 9 & 10th. They are a do.not.miss. and are over by noon, so there's plenty of time to still get in a few turns on the mountain, afterward.  

Night Extravaganza
On Saturday evening of Winter Carnival, we top off our questionable daytime parenting with an evening full of fanfare and fireworks. We light up the night by sending our small children down Howelsen Hill (holding flares) and our big children through a fiery hoop off of the Nordic jump.

These pyro-clad kids lead the way for the show-stopping Lighted Man and end the night with a fireworks show featuring one of the largest fireworks in the country!

The best view is right at the base of Howelsen Hill. Dress warmly, grab a thermos of hot cocoa that our catered guests can have provided by us or get it there and get ready to be wowed!

Fun Facts about the Night Extravaganza
While fireworks might be a more frequent occurrence at other winter carnivals, The Lighted Man is uniquely Steamboat. He has been a night extravaganza mainstay since 1939. Claudius Banks was the original Lighted Man, and his son, Jon, has held the honor for the past 48 years. His suit weighs in at 70 lbs and takes 5 people to assemble. It has over 32 Roman candles, 12 skyrockets and its adorned head to toe in flashing lights.

Moving Mountains' own General Manager, Gardner Flanagan, has been the Master of Ceremonies of the Night Extravaganza for at least 17 years. He will, once again, not only be moving mountains for our guests, he'll be entertaining thousands of evening winter carnival goers with his humor, enthusiasm and his best MC dance moves.
One of the best places to watch the fireworks is your private balcony at The Olympian, pictured above. See if it's still available. 
Parade
We close out the carnival with the Diamond Hitch Parade downtown. Anyone can join in, but each parade participant must be pulled on skis by an animal, car or a cowboy. The do.not.miss. of the parade is seeing the only high school band  (in the country) perform its repertoire on skis.
Should you dress up?
If you feel like impersonating your favorite fur trapper or dressing up like Carl Howelsen, it's all welcome. Most people don't dress up in costumes (unless they are in the parade), but they do dress up in LAYERS. We advise you to just check the forecast and be sure to dress warmly (especially for evening outdoor events)! Wear your ski clothes to the night extravaganza or the street events and you'll be the most comfortable. Skiing in a tutu is always an option during the Soda Pop Slalom and if you're attending a private party in the evening, sorels are always acceptable at any Steamboat Winter Carnival soiree.
Tickets
Entry for Winter Carnival is a $10 button. All proceeds benefit the Steamboat Springs Winter Sports Club. Be sure to wear your button to all events. If you're caught without one, legend has it you'll have to push a peanut down the main street with your nose!
We can take care of it all!
As a Moving Mountains' guest, we can procure your buttons ahead of time, book your post-night extravaganza dinner or parade lunch at Steamboat's poshest restaurants and make sure we whisk you back to your chalet, at any of the events, before your toes get cold!
If you've never been to Steamboat during Winter Carnival, what are you waiting for?