21 May 2021
Steamboat Springs truly sparkles when the grass is green, and the weather is fine! Although we are known for our Champagne Powder snow and epic mountain resort, summer is the hidden gem.  
Summertime is filled with outdoor adventures like hiking, mountain biking, road biking, fishing, boating, paddle boarding, kayaking, horseback riding, ATVing, and so much more. It is also the perfect time for outdoor events, which we have in droves.  
We are excited to announce that many of our summertime favorites are back in action this summer after last year's closures. Check out some of Steamboat's best summer events to enjoy in Summer 2021: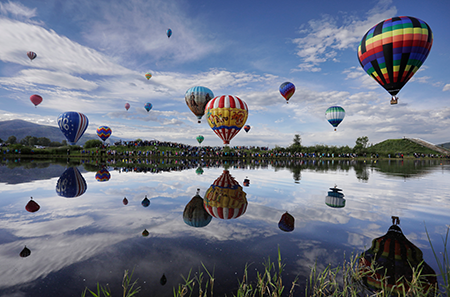 The Yampa Valley will be dotted with color as more than two dozen balloons take to the sky Saturday and Sunday mornings launch from Bald Eagle Lake. The Hot Air Balloon Rodeo is a special annual event for the whole family. On Saturday evening enjoy the Hot Air Balloon Night Glow at Ski Town Park and get up close to the balloons as they fill the air with color and light against the night sky.
This annual Steamboat Springs tradition will feature 10 rodeos and 20 performances over nine weeks. 
The Steamboat Springs Pro Rodeo Series is sanctioned by the PRCA and features bareback, saddle bronc and bull riding along with steer wrestling, team roping, tie-down roping and barrel racing.  At this time, it is unknown whether Covid regulations will allow the popular ram scramble and calf scramble events for the kids. The rodeo will run on weekends: July 1-August 28, 2021.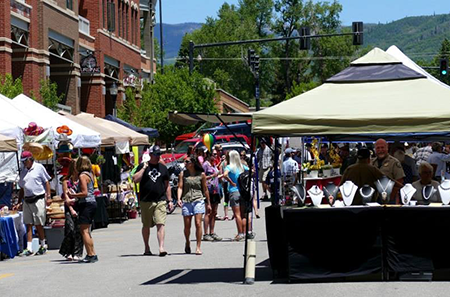 The Main Street Steamboat Farmers Market, located Yampa Street between 5th and 8th and is held on Saturdays from June to September. Official hours are 9 am to 2 pm but if you are out riding your bike or getting in a quick run before the day's events, you can usually pick up a cup of coffee, pastry or even a breakfast burrito before the crowds arrive.
The Moving Mountains Catering team will be offering PANINI + GELATO each Saturday at the Steamboat Farmers Market. We will be serving panini sandwiches, gelato, sorbet, Italian sodas and cold espresso drinks. Come by for yummy treats or just to say hello! 
The Steamboat Marathon is back! It is a unique combination of beautiful scenery and extraordinary people, which makes this race fun for everyone who participates.
It looks very likely that Steamboat's Free Summer Concert Series will be back this year, but we are still waiting on the details. 

The free summer concert series is held at the base of Howelsen Hill. Keepin' It Free brings nationally recognized artists to our mountain town every year with artists ranging from pop, reggae, bluegrass, blues, and funk. The series serves as a gathering for all ages and has become one of the signature events in the valley. The best part? It's completely free!