20 Nov 2019
Christmas and the Colorado Rocky Mountains go together like hot chocolate and peppermint. Our little snow globe state shines under the twinkly lights. Whether you're staying in downtown or in the mountain village of Steamboat, everything (and we mean everything), is merrier and brighter here! 
From gingerbread house supplies to sleigh rides for the whole family, we'll move mountains to make sure your holiday is extra special this year. No "Merry Stressmas" on our watch!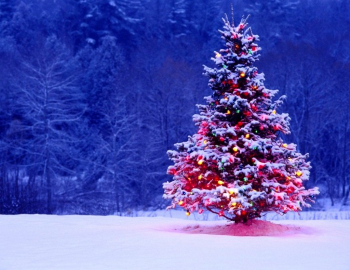 Christmas tree
Don't worry for a minute that you need to orchestrate getting a tree for your Steamboat vacation rental by yourself. We are ready to be your Christmas miracle. We can arrange for a fully decorated tree to be ready and waiting for you upon arrival. No need for tinsel tangles, fighting with a tree stand or having to locate the one burned-out bulb in the Christmas light strand, just pour yourself a glass of eggnog and enjoy a beautifully decorated evergreen in the luxurious ski chalet of your dreams. The trees come in various sizes with a variety of options for decorations including garlands and wreaths. Our elves (aka concierge team) are ready to make your chalet as festive as possible.
Christmas dinner
Hang up the stockings and hang up the apron! Give yourself the week off of cooking to just enjoy time with the people you love. With a luxury catered chalet package, we can roast much more than chestnuts! We'll take care of every meal, including a Christmas Eve feast and Christmas morning yummies. We'll even take care of homemade cookies, milk, and carrots for Santa and Rudolph. If you'd rather we just take one or two meals off of your plate for the week, we can reserve an evening with one of our private chefs or do a delicious drop-off Christmas dinner. If you'll be eating out (be sure to make reservations well ahead of time), a few of our favorites for a memorable Christmas dinner include Aurum, Cafe Diva, and Harwig's.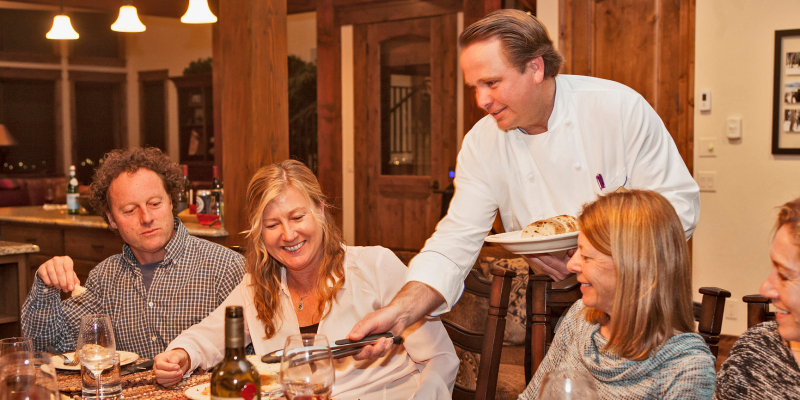 Steamboat Christmas events
Now that you aren't doing the elf thing, solo, you have plenty of time to enjoy all of the holiday festivities in Steamboat. Here are a few to get everyone in the holiday spirit.

Play Some Reindeer Games at the Steamboat Holiday Festival
Every year, the Steamboat mountain village hosts a holiday party just a few days before Christmas. Forget the Polar Express, our Santa rides in on horseback, visits with everyone on his nice list, and even brings a few of his actual reindeer to the ski mountain. There is a live Christmas music concert with the renowned group, Face Vocal, cookie decorating and a stocking-themed scavenger hunt. This festive evening is topped off with a rosy red torchlight parade down the mountain, a sky full of fireworks and night skiing.

Sunday, December 22, 2019, 2 pm-5:30 pm - Base of Steamboat ski area, Gondola Square
Visit Santa in Downtown Steamboat
Santa spends his Saturdays from 11 am-1 pm (starting December 7) at his little North Pole inspired study in downtown Steamboat Springs. It's located on the lawn in front of Bank of the West (between 5th and 6th Street on Lincoln Avenue). Bring the camera or have that phone ready for the perfect picture to send to Grandma and Grandpa.
A Very Electric Holiday Concert
STRINGS MUSIC PAVILLION, 900 STRINGS ROAD
Presented by Strings Music Festival
Saturday, December 21, 2019, at 6 pm 
Light up the night with a Very Electric Holiday Concert at Strings in the Mountains 
It's as if Steamboat's very own Lighted Man went to the North Pole. This family show is a glow in the dark spectacle you won't want to miss. It's a tale of friendship and family set to all of your favorite holiday hits.

Sleigh your holiday!
There is no shortage of ways to dash through the snow in Steamboat, but a Christmas week favorite is, of course, to take everyone on a horse-drawn sleigh ride. We can help you make the arrangements, you bring the Christmas carols. 
Staying for New Year's?
Here are a few ideas to help you combine that famed Steamboat champagne powder with a Korbel champagne toast!
Elf services
Don't forget to take advantage of Moving Mountains beyond compare service. We'll receive your packages and parcels and make sure they are stored and ready for you upon arrival. We can stock your vacation rental with groceries, wine, and even gingerbread house supplies. 
Need a last-minute ride downtown for final gift requests? Run out of wrapping paper? The on-call private shuttle available in Steamboat to our guests is faster than Santa's sleigh AND Amazon Prime, plus no crowded shopping malls to contend with. Peace on earth probably is possible when you don't have to find a parking place during the holiday season. 
New Year's Eve
Tuesday, December 31, 2019
 5:30pm
BASE OF STEAMBOAT SKI AREA IN GONDOLA SQUARE
The Steamboat Ski & Snowboard School treats everyone to a spectacular on-snow parade down the mountain lit only by torches for this New Year's Eve event.
IMPORTANT NOTE: Start time is determined by sunset - please visit steamboat.com to confirm the exact start time of the event.

About the Show 
In conjunction with the torchlight parade, a fireworks display will illuminate the sky providing a perfect ending to the evening. The show is free and great for all ages. 
Pro tip--->The best viewing is from the pavers at the Steamboat Stage and the Timber and Torch grill, all adjacent to the Steamboat Gondola. 
New Year's Eve Party 
Tuesday, December 31,  2019
9:00 PM 
STEAMBOAT SKI RESORT, 2305 MT WERNER CIRCLE 
Join Steamboat Ski Resort for the Korbel® New Year's Eve Party. Take the gondola and Celebrate New Year's in the Champagne Powder Room, overlooking the Yampa Valley and the sparkling lights of Steamboat Springs below. 
Dance the night away to live music and make merry with a balloon drop and Korbel® toast to ring in the New Year. Festive libations are available throughout the evening including a complimentary dessert bar, chocolate fountain, and small bites station. The $60 ticket includes the gondola ride, the indulgent food, DJ & dancing, and a Korbel champagne toast. Cash bar available. Children are welcome, but not recommended as this is a stand and mingle event without reserved seating. 
Guests dining on New Years' Eve at Hazie's, Four Points, Ragnar's, Haymaker and Western BBQ will have free admittance to the Korbel party. 
For additional info and to purchase tickets for this event, please contact our guest services at 970-875-7061 

We can't think of a better place to celebrate the holidays than in Steamboat. We're a magical winter wonderland without even trying. And, here at Moving Mountains, we are experts in making family memories you'll always want to remember.

What better gift could you ask for?