AVOID MISSED CONNECTIONS & DELAYED BAGGAGE...
Now boarding...! Getting to Steamboat gets more convenient each ski season. The winter flight schedule has just been announced and Steamboat is the only Colorado mountain destination with nonstop service from 16 different airports. United Airlines offers direct flights from all seven of its US hubs.
For the upcoming 23/24 ski season, there's been an increase in direct flights and larger planes flying into the Yampa Valley Regional Airport (HDN), Steamboat's local airport.
- United is expanding its service from Newark from weekend flights to five times per week
- United is also increasing its flights from Denver from twice daily to three times
- Delta's flights from Atlanta will be shifting from a 737 to a 757, adding 39 more seats daily
- Southwest is increasing from Saturday only service from Dallas to daily flights
With these changes, there will be an additional 30,000 seats available to book on direct flights to Steamboat this ski season!
Yampa Valley Regional Airport (HDN)

It's approximately 25 miles from Steamboat and 6 key carriers fly nonstop from 15 cities.





Airlines:
Alaska, American, Delta, JetBlue, Southwest, and United
Airports:
Atlanta (ATL), Boston (BOS), Chicago (ORD), Dallas (DAL and DFW), Denver, Ft. Lauderdale (FLL), Houston (IAH), Los Angeles (LAX), Minneapolis (MSP), Nashville (BNA), Newark (EWR), San Diego (SAN), San Francisco (SFO), Seattle (SEA), and Washington DC (IAD)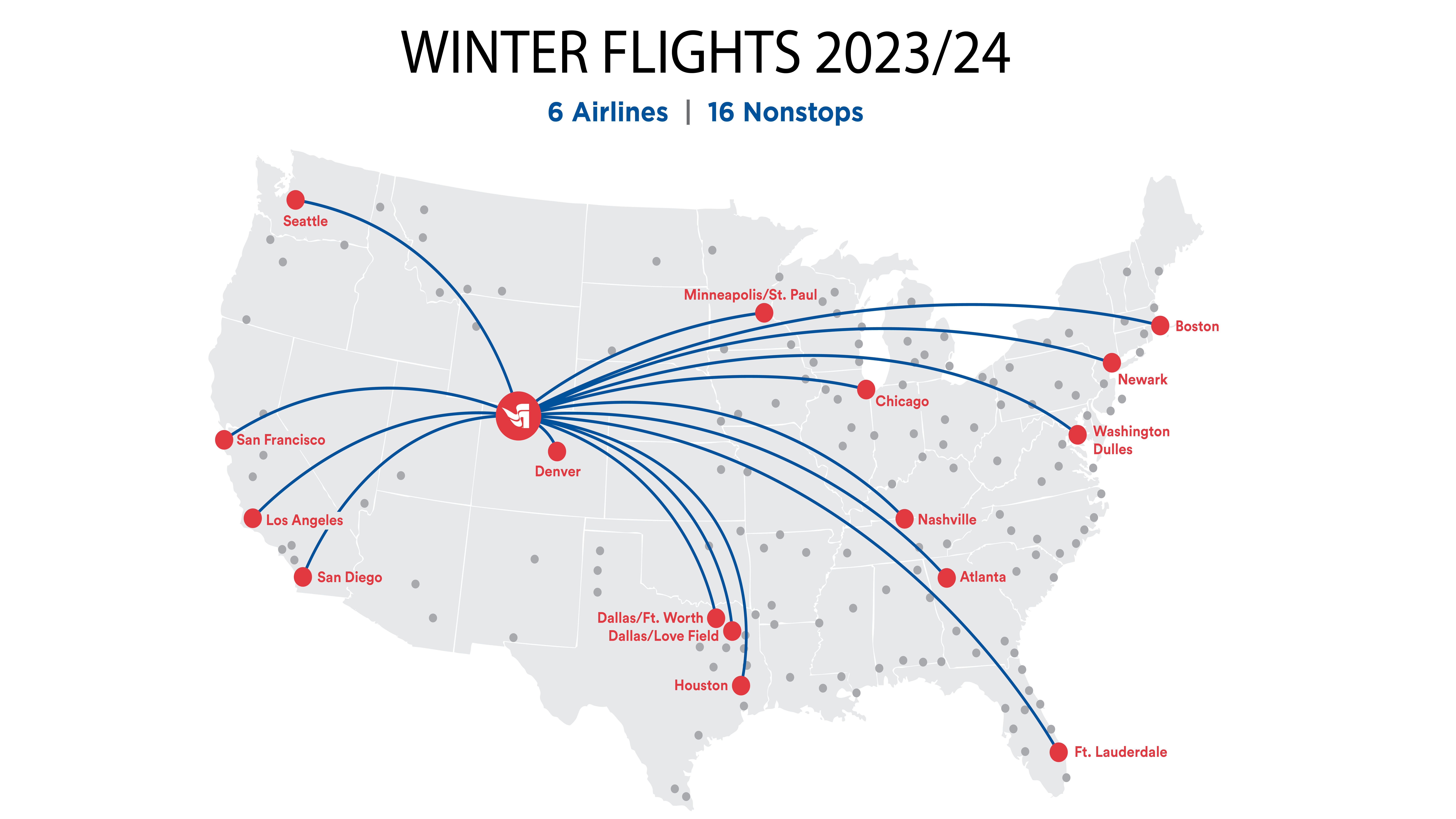 And it's next to impossible to travel on a ski vacation with just a carryon! Between hats, mittens, goggles, coats, snow boots, skis...the luggage piles up. So ship it ahead of time instead of lugging it through the airport. Ship Skis offers an easy solution.
ARRIVING ON A PRIVATE PLANE...
If you are flying privately, Steamboat boasts two FBOs. One is located at the municipal city Bob Adams airport and the other, Atlantic HDN, is located at the Yampa Valley Regional Airport. You'll be treated with Atlantic Aviation's renowned customer service, including heated hangars, luxurious waiting areas and more.
Whether you fly commercial or private, we want your travel to be "plane" and simple
Avoid snow-covered roads and weather-related closures and fly direct, have an airport shuttle or private car whisk you to your vacation home, and then let Moving Mountains do the driving with their in-town shuttle service. Contact the Moving Mountains Guest Services team for details on how we can assist with your travel arrangements.
Still looking for a place to stay when you're here?