27 Oct 2022
If you are lucky enough to visit Breckenridge in winter, the highlight of your ski vacation would be landing here when there is a fun event happening, too. Here are some of our favorite wintertime events in Breckenridge. 
Lighting of Breckenridge and 

Race of the Santas |
Dec. 3, 2022
Breckenridge ups the ante on small town holiday charm with the return of Lighting of Breckenridge. The first weekend of December kicks off a festive holiday scene in the streets of Breckenridge.  Hundreds of Santa look-alikes will run down Main Street in a race to kick-off the holiday season.  Hang out post-race to watch the town transform into a real life holiday card thanks to more than 13,000 feet and 250,000 LED holiday lights. The iconic holiday lights in downtown Breckenridge are one of the most photographed sights during the snowy months and continue to shine and spread hope all winter long.
 Event Highlights
Holiday Dog Parade
Race of the Santas
Children's Moose March
Countdown to tree lighting with Santa Claus
Holiday carolers & revelry
Ullr Fest | December 9-12, 2022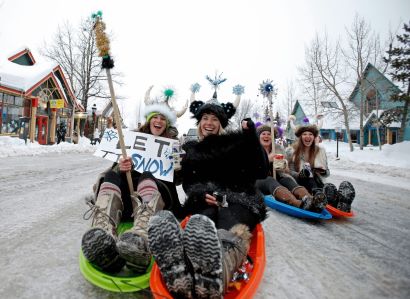 Grab your Viking hats and celebrate all things winter at the 58th annual Ullr Fest, December 9-12. Breckenridge invites locals and visitors of all ages to praise Ullr, the Norse god of snow, in hopes of a powder-filled ski season. Show your devotion at the Main Street parade and become part of history at the longest Shotski® "unofficial" World Record breaking attempt. If you're in for a legendary party, this is one you won't want to miss!
Event Highlights
Take part in the Ullr Parade down Main Street
Break the 2021 Breckenridge Distillery Shotski® "unofficial" World Record
Prove your dedication to snow at the Ullr Bonfire
International Snow Sculpture Championships | 
January 2023
Snow artists from around the world will compete in January in Breckenridge at the International Snow Sculpture Championships. Sculptures, which traditionally remain on display for one week after sculpting, start as 12-foot-tall, 20+ ton blocks of snow.
Teams from all over the world will compete and using only hand tools, artists achieve finished pieces across five days (65 hours) of sculpting in this one-of-a-kind event. Support your favorite sculpture with the People's Choice Vote OR Discover the process of snow sculpting, information about the teams, and lots of interesting trivia.
Check out all our luxury home listings in and around Breckenridge: