2 Aug 2022
The golden glow of Colorado's aspens beckons you. What better way to enjoy the beauty of Colorado than with a scenic drive in the thick of autumn?  
The air is brisk, and everything feels alive. The heat of the summer is behind us and the allure of the Champagne powder ahead of us. Fall is a beautiful time to be in Colorado when our rolling county roads are swathed in layers of yellow, orange, and red.  
We love taking drives, enjoying the views, and taking our time. Taking things slowly in the fall just feels right. Here are some of our favorite scenic drives to take in the fall in Vail, Colorado. 
Red Sandstone Road to Piney River Ranch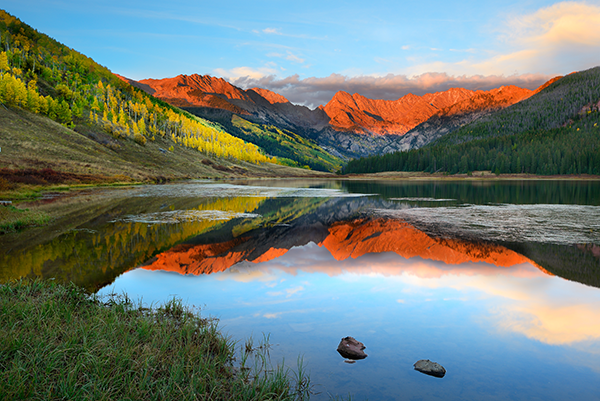 Plug Piney River Ranch into your GPS and head out from Vail. Take in the scenic colors along the way, but the real treat is when you arrive at Piney Lake.
Enjoy the day at this beautiful spot where you can picnic, fish, paddleboard, or canoe.
Vail - Battle Mountain Pass
Enjoy this designated scenic byway with lots of pull-offs for the perfect photo opportunities. Take Highway 24 south through the historic town of Minturn up the winding pass toward Redcliff. From here, loop back to Vail on Shrine Pass Road, a well-graded gravel road. 
Brush Creek Road to Sylvan Lake (Eagle)
This drive begins about 30 minutes west of Vail in Eagle on a paved road. Enjoy the golden colors as you drive along. As you near Sylvan Lake, the road turns into a gravel road. Take in all the views at this tucked-away haven. 
Our year-round beautiful views are simply accentuated by the fall foliage. If you 

haven't

 visited Colorado in the fall, what are you waiting for

?