23 Mar 2021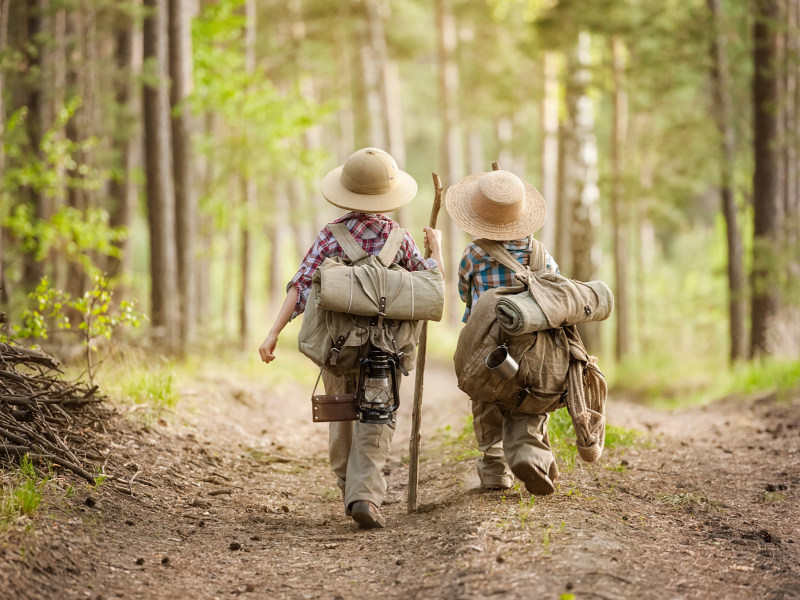 With spring weather right around the corner, it's time to hit the trails! Let's dust off those trail shoes, grab your favorite buff, and enjoy the extensive hiking trails of the Rocky Mountains in Vail and Beaver Creek.
We've listed out several of our favorite Vail and Beaver Creek-area hikes below, along with our pro tips to make the most of your day.
Tip 1: Don't forget the sunscreen
As we're at least a mile closer to the sun and our summer skies are mostly cloud-free, it's very easy to get sunburned. Always be sure that you have slathered on plenty of sunscreen before heading out onto a hike. Reapply often!

Also, dehydration happens easily at this altitude, bring plenty of water and a snack. Wear layers. The weather can change quickly in the mountains, so be prepared by bringing a warm layer that you can easily shed when you need a quick cool down. 
Tip 2: Download the COTREX app
https://apps.apple.com/us/app/colorado-trail-explorer/id1435737776
This is a free app created by Colorado's Division of Parks and Wildlife. It has the most up to date information on trail closures, trail conditions and a GPS system to point you in the right direction.

You can even download maps so that you can view them offline (we highly recommend doing this as cell service can be non-existent in some hiking areas). Consult COTREX before planning any hike to avoid unexpected closures. As with all of our outdoor recreational activities, help keep our area vibrant and beautiful by staying on the trail and leaving no trace. 
VAIL & BEAVER CREEK HIKING GUIDE
VAIL AREA
Booth Falls and Lake
You can either choose to hike about 1 ½ hours to the gleaming falls or for those looking for more of a challenge, continue another 2 hours to the lake!  After about 2 miles, you'll come to a 60-foot waterfall, and further on, you will hike through subalpine meadows and spring and summer wildflowers. At various stages, you'll be hiking alongside the creek. 
Difficulty: The hike to the waterfall is rated moderate and continuing to the lake is rated more difficult.
Pitkin Lake
A wonderful hike for those looking for a workout! The trail is steep, but the reward is the chance to hike amongst waterfalls, streams, glacier-carved granite, wildflowers and if you are lucky, butterflies! The trail is named after Colorado Governor Frederick W. Pitkin who served in the late 1870s. Difficulty: Most difficult.
North Trail/Davos
There are various trailheads for this hike located above the North Frontage Road spanning West Vail to Vail proper. They also intersect at certain points. The terrain varies and goes through aspen groves as well as dense pine forests. The trail is closed from April 15th to June 15th for wildlife migration and elk calving.
Gore Creek Trail / Deluge Lake
These 2 hikes share the same trailhead but are quite different in difficulty. After about 4 miles, the Gore Creek trail will take you to the graves of the Recen brothers. They were 2 young men who came to Colorado in 1876 in search of gold and silver, and they found it! They named the mine they found "Queen of the West" and it afforded them a luxurious lifestyle until the 1893 silver crash when they became penniless. Much of the trail runs alongside Gore Creek and meanders through grassy slopes and aspen groves. There are some steep sections as well as fairly flat areas. Difficulty: Moderate
Deluge Lake – This is a challenging climb, but beautiful and has a feeling of isolation. It traverses a steep, south-facing hillside for about 3 miles and then turns north into Deluge Creek.  From here you have views to the Sawatch Range and Mount of the Holy Cross. Difficulty: Most difficult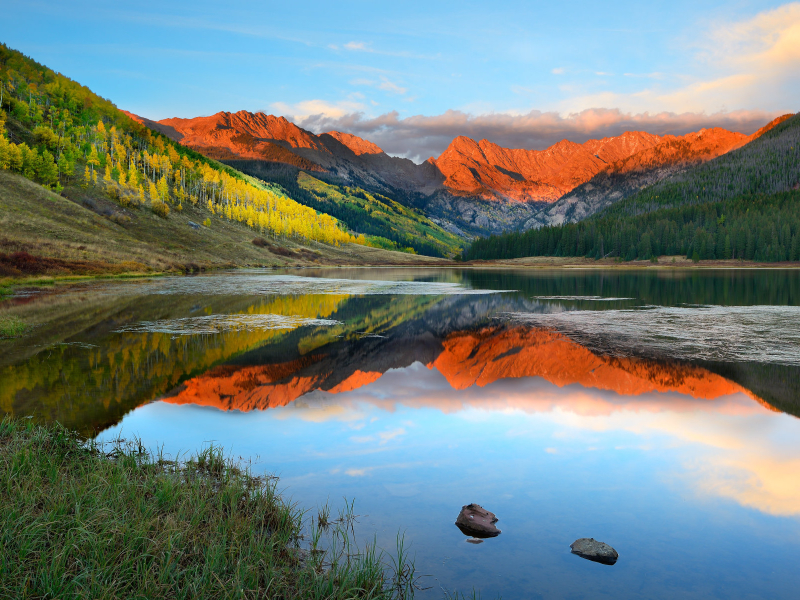 Piney Lake and trails in the vicinity
At the foot of the Gore Range, this is a much-beloved local's favorite, and it's particularly fun for families. It's only about a 12-mile drive from Red Sandstone Rd in Vail to the lake, but because it's a dirt road, driving time is usually 45 minutes to 1 hour.

The road can be a bit rough, so an all-wheel-drive vehicle is recommended.  The road is usually open from mid-June until September/October depending on weather conditions.  When the ranch at Piney Lake is open, parking is available close to the lake. 

There are various activities available as part of the ranch experience…fishing, canoeing, stand up paddleboarding, horseback riding as well as hiking! You can start by hiking around the lake which is relatively flat or take a hike to the Upper Piney River Falls. The hike gently climbs through an open meadow where you reach a low cascading waterfall about 3 miles up. Difficulty: Easy to Moderate
Vail Mountain and gondola accessed trails
These trails are open during the summer months (date varies and weather impacts conditions) when the gondolas are open.  Your options are either hiking from the bottom of the Lionshead or Vail Village gondola's or paying for a "scenic ride pass" and venturing out on one of the trails at the top. If you decide to hike from the bottom of the gondola, the ride back down is complimentary. The area is stunning, with beautiful views to the Rocky Mountains as well as wildflowers and aspen trees. In addition to hiking, there are many fun family-friendly activities in this area. Difficulty: Easy to Moderate
Vail Pass area
There are many trails in this area located about 20 minutes east of Vail.  Some connect throughout the trail system in and around Vail Pass. Please be aware that the beginning elevation for the most part in this area is about 10,000 feet.  See below for a few options with brief descriptions:
Corral Creek Trail – A brief steep uphill to a more mellow clearing with evergreens and wildflowers.  The trail ends after crossing a stream and another area of a steep climb. Difficulty:  Moderate
Bowman's Shortcut Trail/Commando Ski Run – Spectacular views of the Gore and Sawatch Range!  Passes through woods and meadows.  Can be hiked from one trail to another by the use of 2 vehicles, or hike as much of this trail as you are comfortable with and turn around.  Either way, it's a beautiful and enjoyable hike! Depending on where you access this trail, you may need to drive a short distance on a dirt road. Difficulty: Moderate
Shrine Ridge Trail – Climb through pine meadows and wonderful views of much of the various mountain ranges. Difficulty: Easy to Moderate
BEAVER CREEK | AVON | MINTURN | EDWARDS
Meadow Mountain
Located in Minturn, the parking lot is shared with the U.S. Forest Service office. Park to the left side of the lot. Much of the hike is in the sun, so make sure to bring a hat. You can see the highway from the lower part of the trail, but as you continue up, the environment becomes more serene. The area is quite historic as it began as a lettuce farm and then a downhill ski area from 1964 – 1971!  For a while, it was also a tubing hill in the winter.  As the trail climbs, you will see open meadows, aspen and spruce trees as well as nice views of the Gore Range and Beaver Creek ski area. Difficulty: Moderate
Lions head rock trail
Also located In Minturn, this trail goes through a pine forest to an open panoramic view of the Grouse, Beaver Creek, and Sawatch Range mountains. In August, the area usually has thimbleberries growing on the bushes! This hike was known for a rock that looked like the head of a lion, but unfortunately in 2014, the 30-foot rock face boulder broke off and careened down the hill! Difficulty: More difficult
Beaver Lake
There are a couple of ways to access this trail. For an easy family-friendly beginning (or possibly just enjoying this section), the Five Senses Trail in Beaver Creek is a nice way to go.  This section is mostly flat and showcases different plants and flowers with informative plaques along the route. Hiking in and around the ski trails, creeks, deep woods entering the Holy Cross Wilderness on your way to the lake. The lake is one of few that has some small sandy "beaches", and if you've brought your fishing pole and a fishing license, you can even fish for trout. Difficulty: Easy to Moderate
East Lake Creek Trail 
In Edwards, hike through lodgepole pine and aspen trees to a wide flowing creek. Even though this is a popular hike, as you smell the scent of the aspen trees, you feel as though you are in a lovely forest. Difficulty: Easy to Moderate 
Squaw Creek Trail
In Edwards/Cordillera, this is a beautiful shady hike along a mountain stream. It's a bit of a steep climb in the beginning but continues to an open meadow. After about 4 miles, the trail opens up at a hunting camp called Elk Park. There are a few variations to this hike where the trail splits off to other trails. Difficulty: Moderate
And, of course, if you're planning a Vail or Beaver Creek summer vacation and you don't want to trust your vacation to anyone else, reserve with Moving Mountains. We have spoiled our guests for over 21 years with our exceptional service and our hand-picked collection of homes and condominiums. Most of our chalets come equipped with hot tubs, several of our properties have heated outdoor pools, and all come with our insider knowledge and recommendations on the best ways to make the most of your Steamboat family vacation. Your favorite summer vacation is just a Moving Mountains chalet away.