6 Sep 2021
We are ecstatic to announce our arrival in the Breckenridge market. To help kick things off, we wanted to share with you some of the amazing ski-in/ski-out luxury vacation homes we have available in Breckenridge. 
Learn more below, click through to the Paragon Lodging by Moving Mountains website, or give us a call at 800-880-5979 to learn more about our luxury vacation homes in Breckenridge. 
Ski-in, Ski-out Luxury Vacation Homes in Breckenridge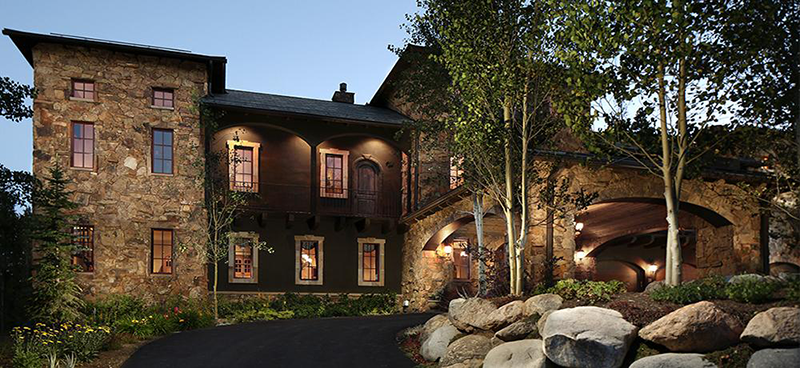 Location: Peak 8, Ski-in/Ski-out
One of Breck's most luxurious ski homes, the Italian-style Chateau of Breckenridge offers majestic mountain views and is loaded with 5-star amenities that will keep your guests entertained from the moment they step through the door. After a full day of invigorating adventures, plan your Après festivities sipping a fine glass of wine and taking in the expansive views and colorful sunsets. Chateau of Breckenridge is situated in one of the most sought-after locations in Breckenridge – just steps off the Four O'clock ski run. Learn more.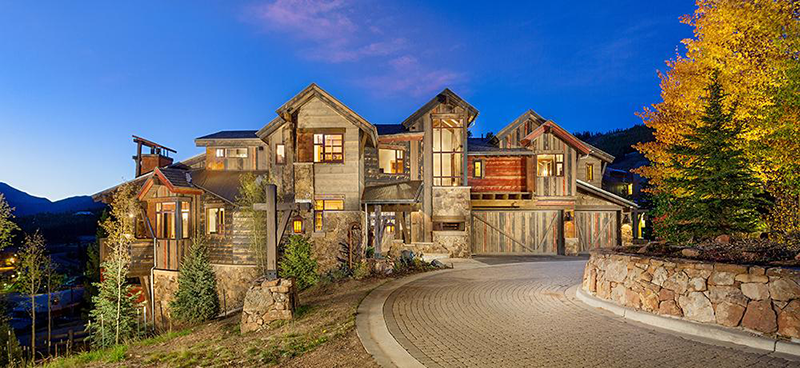 Location: Peak 8, Ski-in/Ski-out
A Mine Shaft is a spectacular six-bedroom custom-built mountain home centered around a unique mining theme and situated at the base of Peak 8 in Breckenridge. A Mine Shaft is ranked amongst the most impressive homes in Breckenridge (2013 Parade of Homes winner) and thoughtfully crafted with vintage materials. No expense has been spared to provide the highest level of comfort, quality, and luxury. Guests will enjoy the lavish amenities including a professional-grade gourmet kitchen, theatre room, and private outdoor hot tub. Learn more.
Location: Peak 8, Ski-in/Ski-out
Welcome to The Bear's Den, where five luxurious levels come together to provide the ultimate vacation experience that is guaranteed to take your breath away – from sprawling mountain views to ski-in/out access and superior accommodations and amenities. The Bear's Den features a glass-enclosed elevator offering mountain views and convenient access to all levels of the home. Learn more.
Location: Peak 8, Ski-in/Ski-out
Majestic Mountain Lodge is situated in the exclusive Trapper's Glen Neighborhood offering ski-in/ski-out access, jaw-dropping mountain views, and alluring amenities throughout. Located at the top of Four O'clock Road, with the Four O'clock Ski Run and Town of Breckenridge "Fairy Trail" in the backyard, this property provides convenient access to the Town of Breckenridge, world-class skiing in the Winter, and endless hiking trails in the Summer, Majestic Mountain Lodge is an ideal retreat any time of year! Learn more.
Location: Peak 8, Ski-in/Ski-out
Four O'Clock Somewhere is the ultimate family ski duplex, just steps from the 4 O'Clock run. A luxury duplex set with a split-level design creates a southwestern exposure letting in lots of sunshine, views, and privacy from the multiple decks on every level.  A layout ideally situated for families with a few short steps to Four O'Clock Ski Run! Learn more.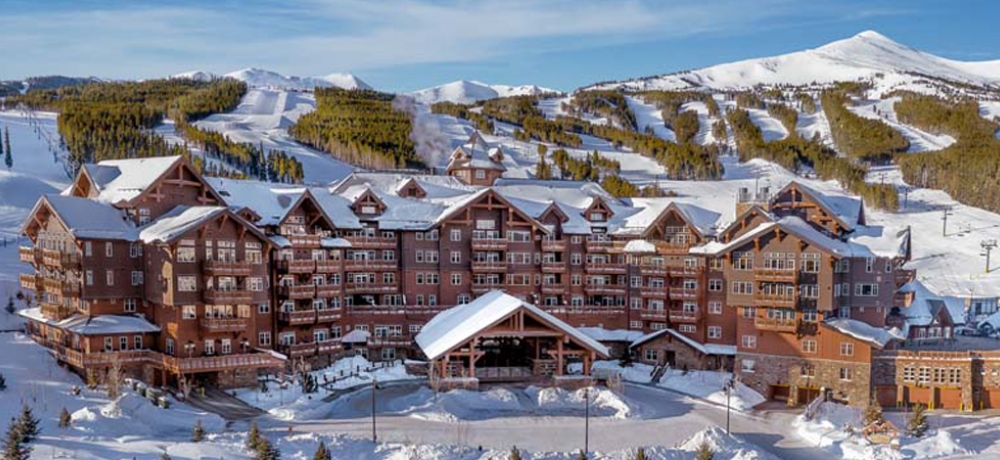 Location: Peak 8, Ski-in/Ski-out
At the base of Peak 8 lies a luxurious ski-in, ski-out lodging experience, punctuated by unmatched service, proximity to the slopes, and direct access to all that Breckenridge is most famous for. The BreckConnect gondola will sweep you down to the charming town of Breckenridge in just minutes for effortless access to four-season activities. Then return to the modern mountain comfort, high-end finishes, and intimate personal touches that make One Ski Hill Place a destination that truly feels like home. One Ski Hill Place is a mere 5-minute drive from the Town of Breckenridge allowing for the best of both a ski village and a ski town. Learn more.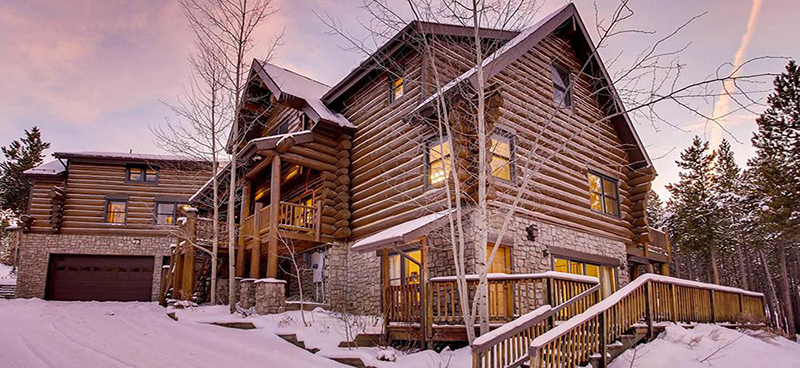 Location: Peak 8, Ski-in/Ski-out
Many properties claim to be "Ski In Ski Out" while still requiring navigation of several blocks of long flat trails. Not the Ski Classic Lodge. This expansive log vacation home is situated directly beside Peak 8 at 10,059 feet. Put on your skis and GO – the ideal skiing and snowboarding vacation. Summertime at the Ski Classic Lodge brings Peak 8 activities (Alpine Slide, mountain biking, hiking, mini-golf) right to your doorstep. Ski Classic Lodge is a luxurious vacation home sure to accommodate any discerning traveler. Learn more.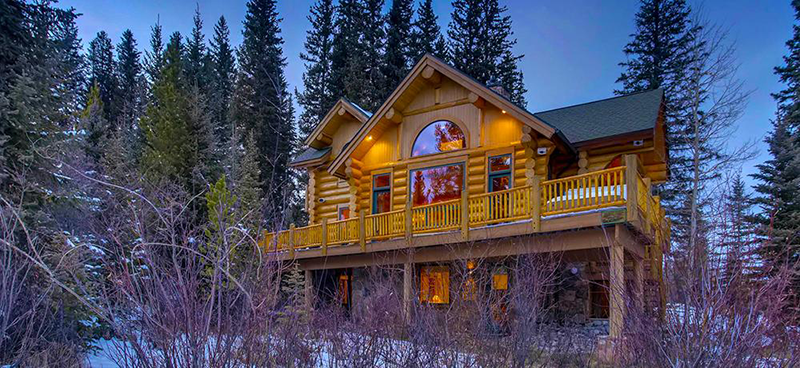 Location: Peak 8, Ski-in/Ski-out
The entire log structure of Clifton Lodge depicts a masterpiece of environmentally conscious craftsmanship with fallen Montana timbers of lodgepole pine and spruce trees. A quintessential, western log home with luxurious style and an ambiance that radiates a classic, mountain comfort. Clifton Lodge is not just a house; it represents a lifestyle. Learn more.
Location: Peak 8, Ski-in/Ski-out
Winter or summer in this beautiful Pines Townhome will satisfy all your mountain expectations. Off the back deck, watch Mule deer and moose roam in the bushes next to the Four O'Clock Ski Run. Pines 75 is on a quiet cul-de-sac a few minutes from town and the base of Peak 8. Learn more.