29 Jan 2020
Spring skiing in Vail means longer days, warmer afternoons, great conditions and plenty of outdoor decks for apres-ski … It warms our January hearts just thinking about it. 
If your family is ready to trade palm trees for snow skis this spring break, look no further than our Moving Mountains' Guide to Spring Break in Vail.
Here are a few of our spring break favorites
Apres-ski takes on a whole new sheen when the temperatures are warmer, the lift line tunes are louder, and the sun is shining! No need to cozy up next to the fireplace because the festivities are usually heating up outside. Spring is the season apres-ski was made for. Here's where to wear your sunscreen.
VAIL: 
Garfinkel's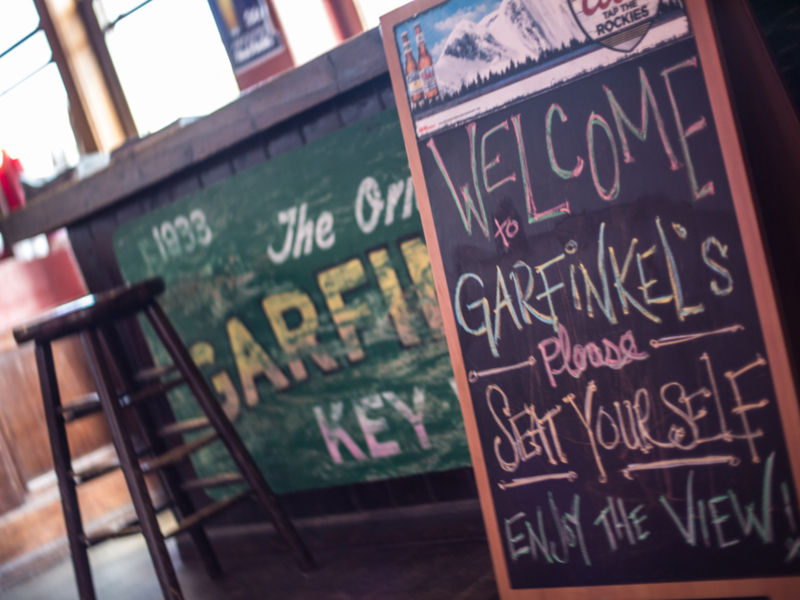 It's the classic old-school apres-ski. The lively Lionshead deck is a longtime favorite for locals and visitors alike since 1992. Try a Moose Juice, a mojito or a Colorado craft beer. It's THE apres-spot for buffalo wings, as well
Vail Chophouse
On the outside Lionshead deck, stunning slopeside views and live music from owner and longtime musician, Phil Long, entertain apres-skiers. On the inside, tableside musicians get ready to delight kids of all ages. Munch on the Vail Chophouse's upscale apres-ski menu of Bourbon vanilla-glazed bacon, kobe flatiron or try surf favorites like the cevich or oysters.
Los Amigos
In Vail Village, Los Amigos is always a favorite. Sip on a margarita or throw back a cold beer as you relax and enjoy the gorgeous mountain setting surrounding you. You're basically in the winter paradise version of a Corona commercial.

Pepi's Bar
It's the Austrian-inspired apres hot-spot for those in the know, including presidents, actors, astronauts, actors, athletes and local legends (Pepi's owners Pepi and Sheika are pretty legendary, themselves!). Check out Pepi's Wall of Fame to see what kind of good company you're in. You can rectify that goggle tan while sipping a libation on Pepi's deck, aka the sunniest spot in Vail Village.  
Dance into the wee hours
No respectable Vail spring break is complete without at least one night out on the dance floor. While the apres-ski scene winds down by 6 or 7 pm, the live music scene doesn't pick up until around 9 or 10 pm. Red Lion, Shakedown Street and Garfinkel's in Vail are favorites for a late-night tune
Signature Spring Events
Taste of Vail
April 1 - 4, 2020
You can feed both your appetite for adventure and for amazing food in one acclaimed April event. The Taste of Vail food & wine festival brings in over 5000 foodies to sample sommelier picks, nosh on nibbles and, of course, still get in plenty of turns on the slopes. This year, we'll be treated to exclusive tastings with just released, never-before-sampled rosés. Apres-rosé (all day!) sounds pretty heavenly to us. Tickets for all of the seminars and tastings are still available.
Pink Vail
March 28, 2020
It's not just the rosé that has everyone thinking pink this spring. Pink Vail is one of the most anticipated events of the season. Similar to a race that supports finding cures for cancer, Pink Vail participants accept pledges as they ski the Golden Peak area of Vail Mountain or just hang out with friends and family in the sunshine. It's SKI-motherapy at its finest. You can compete as little or as much as you want, but the most popular contest is usually for the creative costumes.

Basically, everyone who participates or spectates is decked out in head-to-toe-pink. 100% of donations and registration fees go to Vail's Shaw Cancer Center for patient programming and patient care. The funds are used to support both male and female patients at the cancer center. With all-day live music and participants that range in age from 1-91, this event is definitely a favorite for all ages.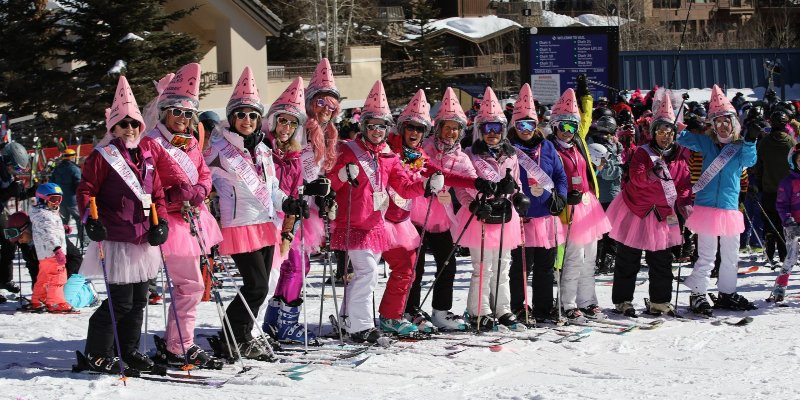 Kooky Events
Powabunga
April 17-19, 2020
This newcomer event took Vail by storm in 2019. For its second year, it'll be the grand finale to the ski season for the young adult (over 21) set. The festival spans from the slopes to the stage with over 13 bands taking over Ford Park. It's 2 days of music and 1 ridiculous (and requisite) pre-ski costume party. Previous prizes included an Epic pass for best onesie or best skiing in jeans. Basically, all the jerry/gaper faux-pas favorites are represented in this combination costume contest and cruiser ski race.

Spring Back to Vail
Friday, April 10, 2020 - 8:30am to Sunday, April 19, 2020 - 11:00pm
Celebrate the final days of the ski season at this year's Spring Back to Vail festival. For 15 years, in snow or shine, the Spring Back to Vail festival has kept everyone more than entertained. Enjoy free live music concerts at the base area block party or cheer on the crazies at the infamous World Pond Skimming Championship (that sounds official, doesn't it?). It's a fun way to ring in spring and say goodbye to another epic winter at this end-of-season annual spectacle.  
Where to stay
While there are plenty of options for spring-breaking throughout Vail, our private homes have some of the most beautiful sunshine-filled decks and gorgeous mountain views. With our luxury full-service catering package, Moscow mules and margaritas can be expertly prepared by your private chef and staff - no spring break crowds required. And the hot tubs are always warm and waiting.

We can't wait to host you this spring at Moving Mountains. Your family's best spring break is just a chalet away!