9 Oct 2019
There's a buzz in the air with this week's weather forecast, calling for snow and cold temperatures starting Wednesday evening through Thursday. So, by the time you are reading this, picture ski towns in the Rocky Mountains turning from golds and yellows of fall to the cool crisp white of winter and the ski season ahead.
From our friendly powder forecasters around the web, here's what they predicted:
Midwinter Type Pow will Drop 1-2 Feet of Snow for Many Areas of the Rockies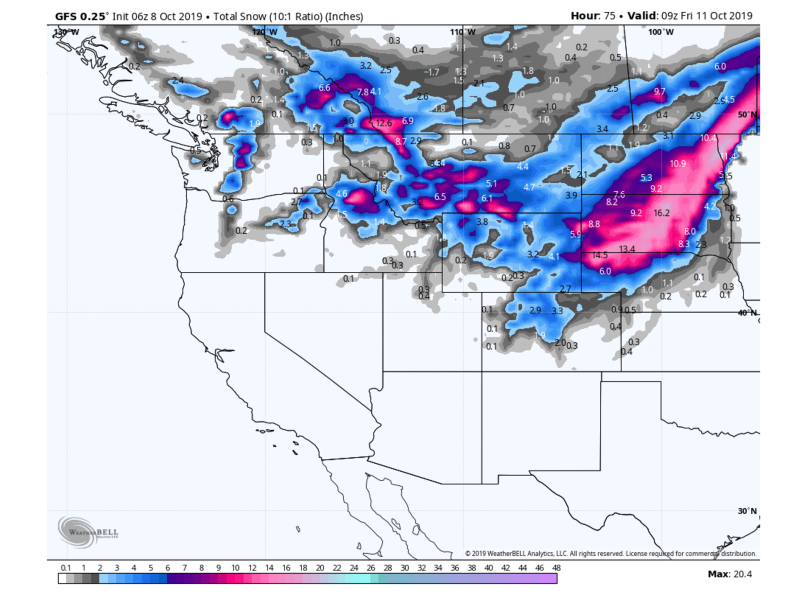 While the Tetons and Wasatch get teased with much lighter amounts, Colorado will be in the headlines by Thursday afternoon. Light snow will be falling north of I-70 late Wednesday night (Steamboat should see 1-3 inches by 9 AM Thursday). Snow will intensify further south on Thursday impacting a wide area of Colorado.
If that isn't enough to get you excited the race to be the first ski resort to open is already underway.
Arapahoe Basin, Keystone start making snow, with a rival not far behind. Which will open first?
Only 90 days after closing the longest ski season in Colorado on the Fourth of July, Arapahoe Basin began snowmaking operations Wednesday, and with more intrigue than in past years. For the first time in two decades, Keystone tied A-Basin in the annual race to make snow first, cranking up a new snowmaking system it hopes will change the early season dynamic on the Front Range.
This year Keystone aims to get back in the running with Arapahoe Basin and Loveland to become the first Colorado ski area to open for the season. With that goal in mind, resort management significantly upgraded its snowmaking operation as part of a bid by Vail Resorts to offer the state's longest ski season between its two Summit County holdings, Keystone and Breckenridge. This year, Breckenridge is slated to remain open through Memorial Day, as it did last season.
Loveland tested its snowguns overnight and plans to begin making snow Wednesday night, according to spokesman John Sellers.
"I think the race to open is a lot of fun," said Alan Henceroth, Arapahoe Basin's chief operating officer. "It's always good to be open. The reality for us is that the very biggest race is the race within ourselves to be ready, to be poised to have our equipment in top working order and to take advantage of every single minute of good snowmaking weather."
Arapahoe Basin, which was open longer than any other Colorado resort last season (Oct. 19-July 4), previously was a pass partner with Vail Resorts for more than two decades, but A-Basin management severed that relationship and left Epic Pass at the conclusion of last season. In August, it joined the rival Ikon Pass collection of resorts.
If that snippet of winter news has whetted your appetite for ski season, come visit us and let us help you find the perfect residence for your next ski vacation.