23 Jan 2023
If you haven't guessed by now, skiing is our love language. What could be more romantic than snuggling amidst the evergreens on a 2-seater chair lift in Steamboat? Or unwinding by the village fireplace after ice skating in Beaver Creek village? Or enjoying a romantic sleigh ride in Breckenridge?
For an elevated Valentine's Day, skip the flower shop, think outside the box (of chocolates), and whisk your Valentine away for a luxury ski vacation to Steamboat, Vail, Beaver Creek, or Breckenridge.
5 Romantic Ideas To Make Your Mountain-Loving Sweetheart Smile: 
1. By Moonlight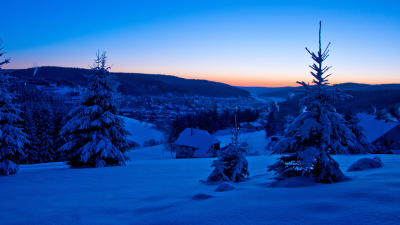 The dark clear sky, the bright stars - Colorado's skies are perfect romance. We've gathered some of our favorite ways to enjoy the evening with our loved ones. 
A snowcat for lovebirds
Your favorite powder hound might love a day with one of our snowcat providers. Bring your favorite couples along and book a private cat, then treat yourselves to the add-on "alpenglow experience" where the guides will extend the ski day a little longer so you can enjoy the powder during our famed alpenglow (it's the amber/golden light that occurs just before sunset). 
Night skiing
This is more for adrenaline-fueled couples, but the fast-paced ski laps on See Me and the sunset views from the Christie chairlift definitely make us blush! The runs are groomed after the lifts close at the end of the ski day, so when they re-open at 5:30 pm, you'll enjoy fresh corduroy. We recommend going early, then enjoying a romantic dinner out on the town afterward. This is available in Steamboat only
How about a sleigh-ride dinner?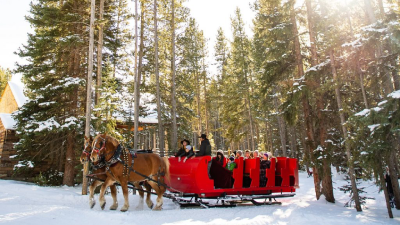 A family Valentine's celebration is always fun in a horse-drawn (or snowcat-drawn) open-air sleigh. Climb under the blankets, staring at the stars and enjoy a beautifully prepared dinner in the snow-capped Rockies. For the ultimate in romance, request a two-person private sleigh.
2. Bring The Heat
What's romance without some heat? When you're in the snowy mountains, our favorite ways to bring the heat are hot springs, hot tubs and cozy fireplaces.
Take a Dip in the Hot Springs
Forget the jewelry, Strawberry Park Hot Springs is one of the real gems of Steamboat: 104 degree naturally fed hot springs pools that are tucked into the mountainside. They are loved by both locals and visitors, alike. Skip the day of skiing to indulge in the hot springs or soak it all in, after dark, under the open skies. Remember to make a reservation ahead of time and book a massage to enjoy before your soak.
Soak in Your Private Hot Tub
Our mountain chalets offer private hot tubs perfect for warming your hearts on a snowy evening.
Get Cozy Around the Fireplace
Many of our luxury vacation homes feature fireplaces - wood-burning or gas - to get cozy together.
3. Up In The Air
What better way to start your romantic vacation than by taking in the best views of the mountain from the basket of a hot air balloon? Romance is always in the air when you're flying high over the world.  
4. With a Table for Two
If you're a bit of a traditionalist, you can't go wrong with booking a table for two. Here are some of our favorites:
How about the multi-course chef's tasting menu at the omakase bar at Tahk Omakase Sushi in Steamboat?  Harwig's in Steamboat always has an aphrodisiac-inspired gastronomic menu, this time of year, with oysters and champagne being the main showstoppers, or plan ahead and book a romantic dinner at Café Diva.
Enjoy après in the Bavarian-style Beaver Creek Village, or fondue for two at Almresi in Vail. In Breckenridge, try the Swiss Haven Restaurant for a personalized fondue experience, or watch the sunset from a romantic table at Traverse, or pick up some wine, cheese and chocolate from Ridge Street Wine to take home and enjoy by the fire. 
5. Stay In!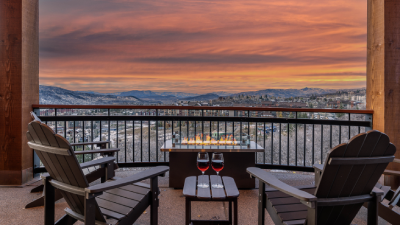 Is staying in more your style? How could we blame you? Our chalets are spectacular. We can arrange a decadent dinner for two in the privacy of your own mountain getaway. You can sup in your slippers, enjoy apres-ski cocktails on the deck, and take in the views from your private hot tub. We'll light the candles for all, pop open the bubbly for the adults, and make a flight of hot chocolate for the kids.
Or let our guest services staff arrange for massages at the chalet, help you find a babysitter, deliver homemade chocolate from a local chocolatier and make sure the best wine is already in the cellar.
No matter what you decide, the first step is staying with Moving Mountains because nothing says romance like "you don't need to do a darn thing on this vacation except enjoy yourself." 
Our chalets come standard with high-thread-count sheets and the fluffiest duvets because we understand that these things matter.
Many of the primary bedrooms in our homes are appointed with fireplaces, jetted tubs, and private balconies that overlook stunning mountain vistas. Our luxury accommodations matched with our beyond-compare service means that hotel rooms are no comparison to what we have to offer. 
With luxury ski mountain homes and condos in Breckenridge, Vail, Beaver Creek, and Steamboat, we'll move mountains to make sure your romantic getaway goes perfectly without a glitch or a hitch!