6 May 2021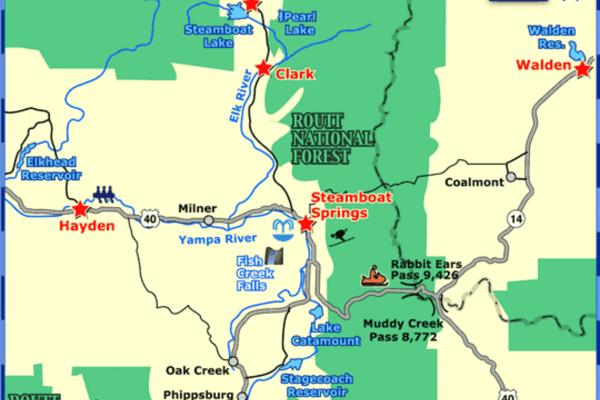 (from ColoradoDirectory.com)
With over 6000 miles of fishable waters and 2000 lakes, it's no wonder that Colorado fishing is "off the hook".  Affectionately dubbed "trout heaven here on earth", regardless of how much you catch, the Rocky Mountain scenery nearly guarantees a great day on the water!
Whether you're a fly fisher or a rod-and-reeler, there are ample ways to drop a line in Colorado.
In Steamboat, the Yampa River provides miles of public access fishing waters chock full of rainbows and browns. The Yampa meanders through downtown making it a lovely setting with views of Howelsen and the Steamboat ski mountain. 
Steamboat and Pearl Lake, just north of Steamboat in Clark, Colorado are perfect for cutthroats and graylings. And Stagecoach Reservoir is home to the elusive walleye. 
Pearl Lake is a hidden gem. It's known as a peaceful spot open to wakeless boaters and kayakers. Steamboat Lake and Stagecoach Reservoir have a fleet of pontoons and fishing boats available to rent throughout the summer months. All lakes also offer ice fishing in the winter. 
Steamboat Lake fits right in with our Steamboat Olympic heritage. It's one of just three lakes in Colorado to carry a gold medal fishing designation.  While it's a bit busier than Pearl Lake, there are plenty of serene spots to cast a line and the view of Hahn's Peak is simply stunning.
Stagecoach Reservoir is just about 15 minutes south of Steamboat and it's a favorite for anglers looking for record-setting northern pike along with huge rainbow trout and walleye.
For access to private waters, night and bow fishing adventures, expert guidance, and all the insider "hook-ups" for fishing the surrounding areas, we recommend booking an excursion with one of our favorite fishing outfitters.
With conservation, stewardship and adventure top of mind, Straightline Sports organizes fun fly fishing trips while giving Mother Nature the respect she deserves. Learn more about their wade trips, float trips and backcountry options.
Adventures is certainly an understatement when it comes to this outfitter with some of the most unique and exciting fishing excursions in the area. Bow fishing, spearfishing, and night fishing just to name a few. They offer rod-and-reel trips out of Stagecoach Reservoir and customizable fishing trips to Steamboat Lake, Pearl Lake, and private waters. Not only are they experts at catching elusive walleye and northern pike that just might outweigh your children, but they offer the best service of anyone around. No request is too big or small and, for novices, catching a fish is always guaranteed.
These Orvis endorsed guides offer year-round flyfishing on over 60 miles of private water. They also have public water and float trips. Cast your line at one of the many private ranches while elk herds roam nearby or marvel at the Flat Tops scenery as you reel in that rainbow. Ask about their sportsman's paradise location where private horseback trips, sporting clays, and big game hunting (in season) are also available.  And if you need to upgrade your gear or buy a present for someone back home, visit their high-end downtown shop on Lincoln Avenue for Orvis flies, rods, reels, waders, home decor, and fashion.
Steamboat Flyfisher specializes in private waters, Colorado State Parks, and public water fisheries. Catch rainbows, browns, cutthroats, brookies, and whitefish on their over 60 miles of river access. Each catch averages around 17 inches in size with over 20 fish caught almost daily! And while you're waiting for those fish to bite, grab a ski tip or two as the owner, Johnny Spillane, is a three-time Olympic silver medalist Nordic ski racer. Their specialty retail shop is located in the Olympian building in downtown Steamboat, right on the Yampa River, just below a few of our best downtown penthouse vacation rentals.

Ready to hang that Gone Fishing sign on your door? Then it's time for another great catch! If you want the best in vacation home rentals and condominiums, then don't trust your Steamboat summer vacation to anyone else. We have spoiled our guests for over 21 years with our exceptional service and our hand-picked collection of homes and condominiums. Your perfect Steamboat summer vacation is just a Moving Mountains chalet away.