16 Apr 2019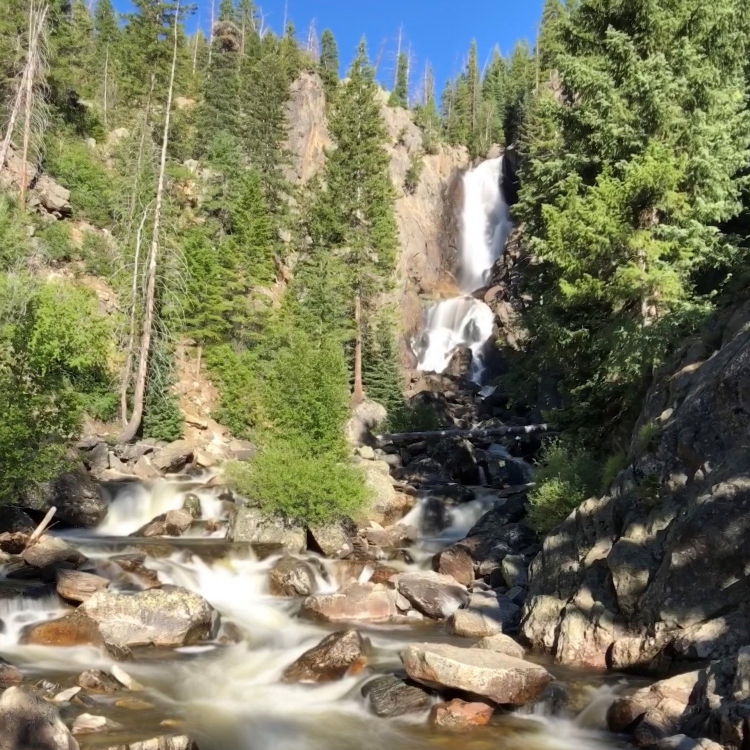 While daydreaming of Steamboat usually conjures up images of champagne powder and cowboys, there's another iconic attraction that every visitor should go and see.
It's Steamboat's best water feature, but no landscaping crew, pump or backyard maintenance required. Fish Creek Falls is a Steamboat favorite, and there is no off-season for enjoying it.
You would think a 283-foot waterfall tucked into a tight canyon would require a hefty hike to get to, but that's certainly not the case with Fish Creek Falls. This waterfall couldn't be more accessible than if a toddler tried to overflow the bathtub. Speaking of toddlers, Fish Creek Falls is both wheelchair and stroller friendly, and it's a stunning backdrop for your next family fun day. 
At just 3 miles from downtown Steamboat, it's one of the easiest hikes to get to. Turn on to 3rd Street from downtown Lincoln Avenue (main street), go right (East) onto Fish Creek Falls Road and follow it all the way until it ends at the Fish Creek Falls parking lot. You'll need $5 cash/vehicle to pay the U.S. Forest Service. It's an old-school envelope drop payment system, so cash is key.
Then, to get to the lower falls, just follow the smooth gravel path as it winds its way along the runout. You'll see a pedestrian bridge where you can get a direct view of the sheer volume of snowmelt pouring over the cliffs. Fish Creek Falls is open year-round from 6am-10pm (though, unless it's a full moon, there's not much to see after dark).
For many, this easy 1/4 mile jaunt is more than enough. Others, who want to add in a bit more adventure, can keep heading straight up another 2.5 miles to the second set of falls. This is a steeper hike (you gain almost 2000 more feet in elevation), and it's not recommended for small children, it's not wheelchair or stroller accessible and it's not really recommended in the winter time without adequate gear.

In summer and fall, this 3-hour loop to the Upper Falls is a well-trodden hike with remarkable rewards. Those who really want to make the most of their hike can continue onto Long Lake. This add-on makes the excursion 12-miles roundtrip, so definitely be prepared with plenty of food and water. Or just stick to the lower falls and/or Upper falls and be back to enjoy the sunset at your chalet!
If you'd really like to get up close and personal with Fish Creek Falls, you can ice climb it with a certified guide in the winter months. No prior experience necessary, contact us for how we can safely arrange this for you. Not only exhilarating, pickaxe'ing frozen falls would probably increase your Insta credibility!
Because Fish Creek Falls is surrounded by aspen groves, fall hikes are incredible. It's one of the best ways to experience all of the golden colors of Colorado.
If you'd like to see Fish Creek Falls from a different vantage point, any time of year, you can park your car and then head back down Fish Creek Falls Road,120 paces or so and look for the unmarked trail on the right. This 3-mile loop isn't as busy as the Upper Fish Creek Falls hike and gives you some dramatic views of the canyon walls and a little piece of history with an actual abandoned mine at the turn-around point. 
*If seeing an old mine has you intrigued, be sure to reserve the Gold Mine Lodge for your Steamboat vacation. Top-notch luxury paired with elements of the West's old mining days.
No matter when you're visiting Steamboat, be sure to put Fish Creek Falls on your must-see list. Then reward yourself with a warm cascading soak in one of our Moving Mountains' chalet hot tubs!