18 Jun 2019
Whether you're the kind of person who has been pedaling your Peloton training bike practically to the moon and back and are ready to take your ride OUTSIDE or you're a seasoned rider with many miles under your wheels already, Steamboat has the bike ride for you!
With miles of pristine singletrack mountain biking trails, the World-class Steamboat Bike Park, miles of paved county roads, and even more miles of unpaved gravel roads for those of you into cycling's latest addition - gravel riding, it's no wonder we're referred to as Bike Town USA®. And the gold and silver in Steamboat aren't just for our Olympic skiers, either. We're a Goldold level rated bicycle-friendly community by the American League of Bicyclists and a Silver Level IMBA Ride Center for mountain biking
With so many miles of smiles to choose from, we thought we'd highlight a few of our favorites.
Cruise the Core Trail!
This 7.5 mile paved multi-use trail runs from downtown Steamboat to the ski mountain along the beautiful Yampa River.
It's a family favorite with plenty of interesting stops along the way. Little ones love a quick warm dip in the hippy hot springs of the Dr. Rich Weiss Park. Take a respite or have a picnic at the Yampa River Botanic Park. You'll be treated to gorgeous flowers, native trees, ponds and maybe even an outdoor classical music concert. You could even throw a rod on your ride and enjoy some fishing along the river or at Fetcher Park Pond. And if you end your adventure downtown, there are plenty of restaurants along the river to reward you.
Downhill and Freeride Mountain Biking
Steamboat Bike Park
Have a few thrill riders in your pack? Get your gravity-fed adrenaline fix over at The Steamboat Bike Park. Multiple features including ramps, walls, jumps, table-tops ladder bridges, and banked turns provide exciting terrain for all levels. Riding in the bike park is definitely more challenging than traditional mountain biking trails. You'll need a downhill specific bike, full face helmets, and body protection which can all be rented locally if you don't have your own.
Steamboat offers group bike lessons three times a day at 11 am, 2 pm and 5 pm for those wanting to improve their skills or learn how to ride in the bike park.
Mountain Biking: Emerald Mountain Bike Trails
Emerald Mountain is a mountain bike haven and heaven all wrapped up in one crown jewel. Its web of singletrack trails amounts to almost 30 miles of dirt for beginner to advanced riders. You're in for a treat with over 4000 acres of public land with aspen groves, shady pines, and wild-flowers.
Bluff's Loop
Beginner's love Buff's Loop. Start at the Rodeo Stables Trailhead at the base of Howelsen. Get your legs pumping with a short climb at the beginning, then you'll be treated to unparalleled views of downtown, the river, and the ski mountain.
Rotary Trail
Another perfect Steamboat starter ride. Its wide and smooth trails are nicely shaded. At just 3.3 miles total with a 327' ascent make Rotary Trail perfect for family riding.
The trail is on the far side of Emerald Mountain, the quickest access is via the Ridge Trail. It's uphill, but not too harsh. It is nicely shaded. If you're really nervous about an uphill battle, you can skip the Ridge Trail portion and drive directly to the Rotary Trail trailhead by taking 13th Street to Routt County Road 45. It's about 5.4 miles from the James Brown Soul Center of the Universe Bridge.
Morning Gloria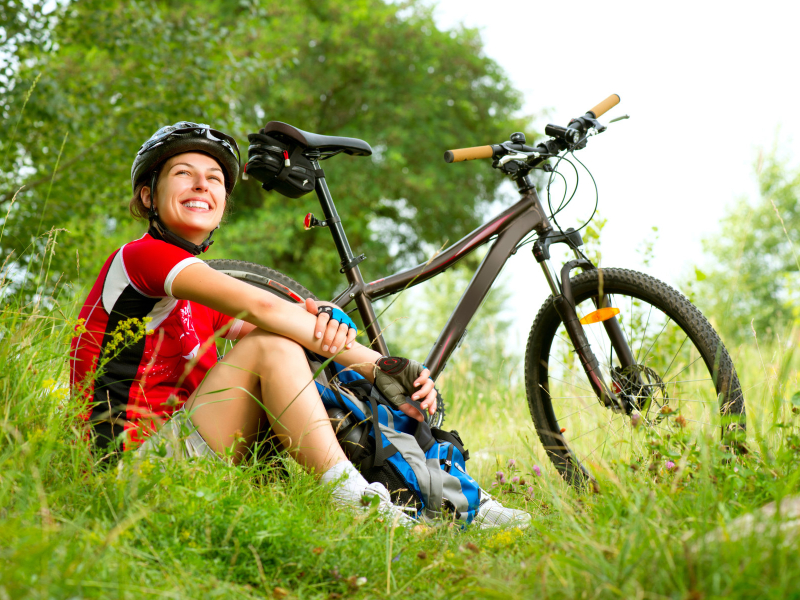 If you'd like an intermediate ride that sounds less painful than its neighbor, Root Canal, give Morning Gloria a go. This 4-mile uninterrupted single track on the front side of Howelsen Hill is a new favorite. Its mellow grade and sharp switchbacks make this a great ride in either direction. It connects with Lupine and Root Canal. And we're just teasing about Root Canal. We promise it gets its name from the roots along the trail not because it's reminiscent of dental office procedures.
NPR
This advanced downhill only trail lives up to its name. If you know your way around a mountain bike, there's No Pedaling Required. Advanced riders can coast this baby's bumps and jumps all the way to the end.
Stinger Loop
This is actually a combination of trails that are used in the annual Steamboat Stinger mountain bike race in August but it does offer you the opportunity of a 25-mile epic ride from the center of downtown. It's a must for experienced riders looking to sample Steamboat's best. Climb up Robbie's Cut to Blackmere Drive and head up until you reach the Orton Meadow cut over to MGM. Continue up MGM, across to the short sharp climb of Angry Grouse and head to Stairway to Heaven, No Mo Blues and Wild Rose, reaching the ridgeline and ready for your first descent.  Flow down Ridge Trail until you reach Cow Creek Rd. Follow the road left to the Beall Trail. Ascend this beautiful meandering trail once again to the 4-way at the ridge of Emerald Mountain, jump onto Root Canal, zip down Quarry Mountain,take the short rocky descent of Little Moab onto Lupine, cut out onto Prayer Flag Rd, then Larry's back to Lupine, Ricky's Ridge, Howelsen Meadows and home!
Mountain Biking: Buffalo Pass Trails
Flash of Gold
Flash of Gold is part of the expanding trail network of Buffalo Pass. In September/October, it most certainly lives up to its name with spectacular yellow aspens guiding the way. Its single track is moderate at first but turns into a more intermediate trail quickly, thereafter. With a 1766' climb, it's for those ready to give their lungs a workout (or who have a pedal assist option).
Gravel Riding: Explore the tranquil countryside
Because of our ranching roots and the latticework network of dirt roads that connect the farmlands, Steamboat has become a mecca for the fast-growing Gravel Riding phenomenon. Riding beefed up road bikes with bigger skinny tires, this is very popular with road riders looking for quieter rides, absent of traffic and a window on less traveled parts of our valley panorama.
We have everything from 20-mile out and backs to century rides such as will feature in the Steamboat Gravel Race that debuts in August covering 141 miles.
Airport/Gravel Grinder Loop
Steamboat and its surrounding areas could be called the unofficial dirt road capital of Colorado. Plenty of peaceful meandering country roads to ride throughout the area. This 21-mile ride is more intermediate than beginner with an ascent of 1150ft. It takes you from Steamboat Springs up Elk Road, over to RCR 44. You'll be treated to views of Sleeping Giant before intersecting with CR33 to make the easy spin (on pavement) back to town.
Road Biking: Not one road in and out..but a whole lot more!
Because Routt County can boast more paved roads than any other county in the Mountain Counties of Colorado we are home to some incredible road biking opportunities to suit all tastes. If you're ready to hit the road, jack, rides vary from numerous flat valley loops, to epic climbs like Rabbit Ears Pass, or a 50 mile loop like the Coal Mine Loop used in the USA Pro-Cycling Challenge, or a spectacular day ride out and back to Steamboat Lake and the historic mining town of Columbine. It's as much or as little as you will ever need!
Catamount Out & Back
The this11-mile comfortable aerobic ride takes you from Steamboat to the scenic (and stunning) 530-acre Lake Catamount along the country road, Hudspeth Lane. Treat yourself to a lunch at Catamount's Lake House grill (open to the public) before heading back to town.
River Road Loop
There are 3 routes within the River Road area: 1 short,1  medium and 1 long. They can be combined or ridden individually. In total its about 23.91 miles of easy, not too technical dirt road biking.
Bike Rentals / Bike Shop
Look no further than downtown's Steamboat Ski & Bike Kare. They are our trusted partner in bike rentals, bike safety, and bike clinics as well as being one of the best full-service bike shops in town.
They offer everything from a comfortable cruiser and carbon road bikes to dual suspension mountain bikes and snazzy high-end e-bikes (with pedal assist). They even rent everything you need to hit the pump track or the bike park at their mountain village store.
In addition to their fleet of bicycles, they also have kids bikes, trailers, and tag-alongs. If you brought your own bike, but need a last-minute repair, their service shop can fix it. Just wheel yourself in, and they'll take care of the rest. And if you want to learn how to change a tube or do repairs yourself, they even host maintenance clinics monthly in their downtown repair shop. For female riders who are new to the sport or want to increase bike skills, Steamboat Ski & Bike Kare has weekly women's clinics and rides (every Tuesday at 5:45 pm throughout the summer). These women-only clinics are a favorite amongst locals of all riding levels.
We know you're ready to have a 'wheelie" good time biking the Boat, this summer. Now you just need to decide on which 5-star hot tub you want to hop in AFTER you've gone the distance.