Colorado lays claim to world-class ski resorts. To stay at the top of their game, Steamboat, Breckenridge, Vail and Beaver Creek continue to make improvements that enhance the guest experience. Here's what's new this ski season.
Beginning this winter, Steamboat Resort will officially become the second largest ski resort in Colorado and will have the bragging rights for the longest and fastest 10-person gondola in North America.
The Resort's Full Steam Ahead redevelopment plan has transformed the base area, as well as the on-mountain experience. It all started with new escalators and an outdoor ice rink at the base; and now the culmination of this 3-year project are the new gondola and expanded terrain opening this ski season.
Mahogany Ridge & Fish Creek Canyon Expansion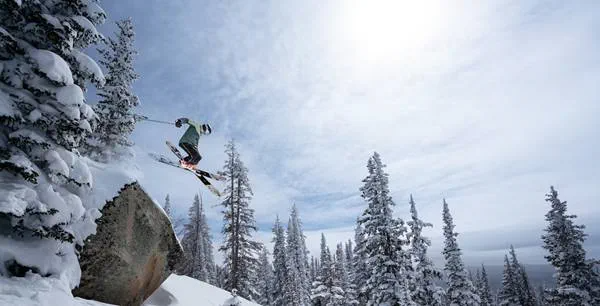 Advanced/expert skiers and riders will have a new playground with rock cliffs, chutes and tree glades! 650 acres of a previously out-of-bounds area that has been skied for years via backcountry gates and hike-to-access, will soon be in-bounds and serviced by a new highspeed quad chairlift. Mahogany Ridge and Fish Creek Canyon will offer exciting new terrain that will be maintained and patrolled.
The expansion into this area makes Steamboat the second largest ski resort in Colorado behind Vail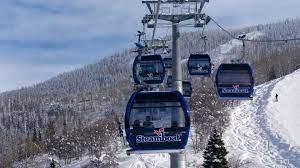 When Steamboat's famous Champagne Powder® awaits, you'll want to get to the top of the mountain as fast as you can. Step aboard the 10-person Wild Blue Gondola that will get you from the base area to the top of Sunshine Peak in 13 minutes and provide spectacular views! The first section of the gondola opened last season to transport skiers to the new Greenhorn Ranch, a terrain-based, on-mountian dedicated beginner's learning area. This season the Wild Blue Gondola extends to top becoming North America's longest (3.16 miles) and fastest 10-person gondola.
This season the Wild Blue Gondola extends to top becoming North America's longest (3.16 miles) and fastest 10-person gondola.
Since the first lifts started up at the Breckenridge ski area in 1961, the Resort has been at the forefront of innovation, new lift technology and continuing to enhance the skier and rider experience. Breck installed the world's first high-speed quad chairlift, it was the first major Colorado resort to welcome snowboarders in 1984; and opened up its signature high alpine terrain with the introduction of the T-Bar, the Imperial Express, and the opening of Peak 6 in 2013. The resort now boasts five separate peaks, each with distinct features.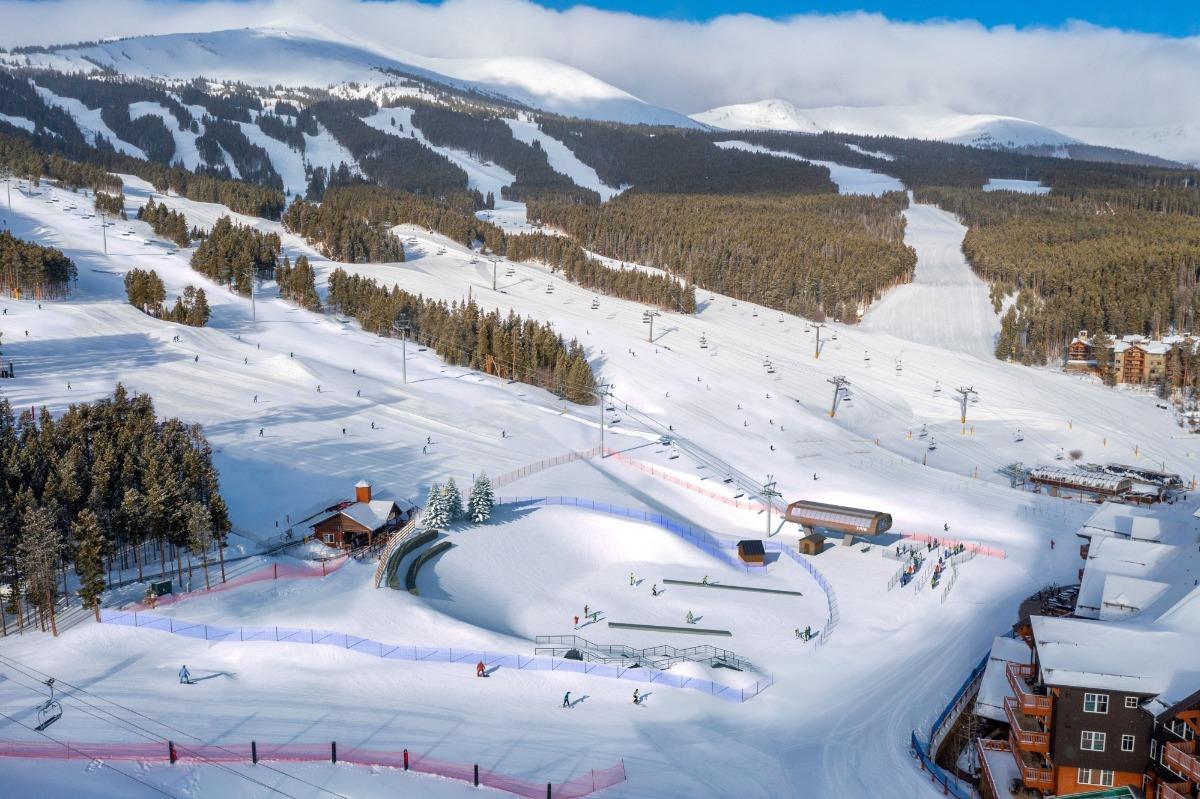 This ski season, Breck will unveil its latest improvement, the transformation of the Peak 8 base area. Peak 8 is the heart and soul of Breck. It's where it all began. From almost anywhere in town, you can look up and see Peak 8's iconic Horseshoe Bowl, topped by the highest chairlift in North America—the Imperial Express SuperChair.
The main upgrade is to the 5-Chair, which will now be known as the FIVE SuperChair - a new, high-speed quad.

Now, all four chairlifts that service Peak 8 will be high-speed lifts to assist with getting skiers and riders out of the resorts' most popular base area and up on the mountain faster.
BRECKENRIDGE | VAIL | BEAVER CREEK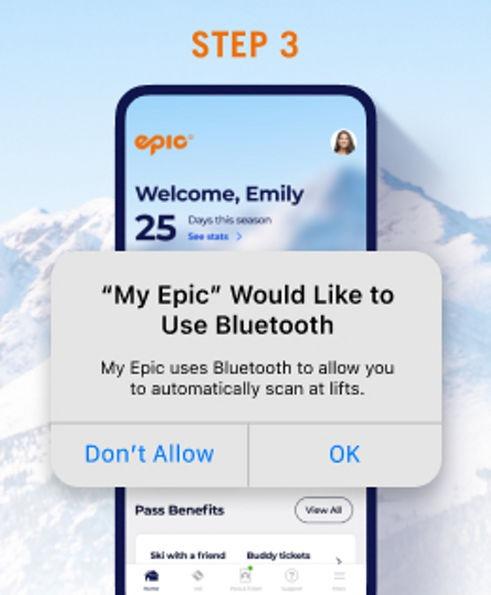 If you have an Epic pass, the new My Epic app gives you access to a seamless, all-inclusive mountain experience, with Mobile Pass, trail maps, live lift-line status update, personal stats and much more. A few fun features:
Mobile Pass – Your pass is loaded on to your phone and it's scanned at the lift hands-free, straight from your pocket.
Lift Line Status – Don't stand in line. See which lifts have the shortest lines.
Real-Time Mountain Alerts – Looking for that perfect carpet! get grooming updates on the app.
Interactive Trail Maps – Navigate the mountain like a pro.
CAMP HALE AT VAIL: INTERACTIVE CHILDREN'S LEARNING AREA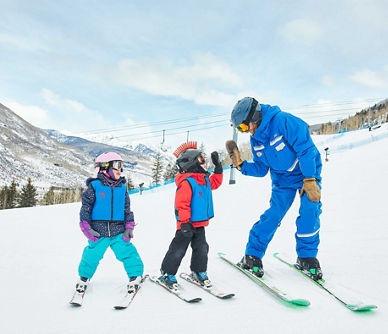 Inside the new Camp Hale at Vail, ski school students will learn through the lens of 10th Mountain Division Soldiers who skied the mountain before Vail 's founding. The program's students, called Camp Hale Cadets, will learn about Vail Mountain's partnership with the US Forest Service, how Vail Mountain employees create a safe mountain environment, alpine weather and conditions, types of machinery used on Vail Mountain, and how to safely conduct themselves in the alpine environment – including skiing and riding in the trees.
This learning space is designed to heighten students' mountain awareness, allowing them to more safely enjoy skiing and riding through an exploratory experience. This immersive indoor lesson experience will be tied to outdoor learning experiences within Vail's signature Children's Adventure Zones.
Beaver Creek Village at the base of the ski mountain has a new addition catering specifically to teenagers. Kids can pick up the fun after the lifts have shut down for the day at Hawk's Nest Cabin. It's a custom-designed retreat for teenager, but older kids can enjoy the space as well. Hawk's Nest Cabin is an underage club with a modern alpine-cabin vibe all its own, featuring custom, one-of-a-kind decor, craft non-alcoholic beverages, music, interactive technology, arcade and table games, a ski simulator, lounge spots, plenty of charging stations, opportunities for legendary selfies and a whole lot more.
MICHELIN GUIDE RECOMMENDED RESTAURANTS
Enjoying a fabulous meal at the end of a day on the mountain is a treat to be included in any ski vacation! The illustrious MICHELIN Guide debuted a Colorado version just this past Fall and five Vail Valley restaurants made the Recommended list: Mirabelle, Splendido at the Chateau, and WYLD in Beaver Creek; and Osaki's and Sweet Basil in Vail.